Features
T Magazine Features Platner Stool in Gold
Knoll in the News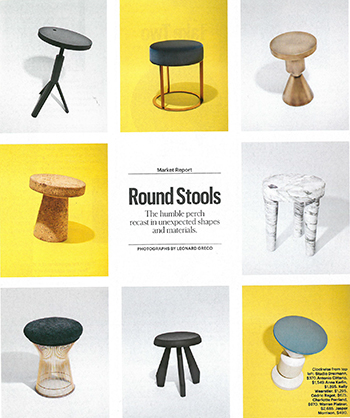 T: The New York Times Style Magazine included the Platner Stool in Gold in a selection of round stools, published in the March 6, 2016, issue. The issue was dedicated to men's style.
Knoll introduced Platner Gold, an 18-karat gold-plated finish option, to select pieces in the Platner Collection in August 2015. The finish option crowns the celebrated collection's 50th anniversary. In addition to the Platner Stool, the gold finish option has also been made available to the Platner Lounge Chair, Platner Arm Chair, Platner Dining Table, Platner Coffee Table and Platner Side Table.
The Platner Stool in Gold spotlight is the second Knoll feature in The New York Times' Sunday, March 6, edition. The designer Joe Nahem selected the Platner Easy Chair in a shopping guide that appeared in the newspaper's Real Estate section.