West Chin's Long Beach Lounge
West Chin, principal of West Chin Architects and Interior Designers, seeks fluid, light-filled environments. These qualities drove the New York- and East Hampton-based firm to design this beach home with long structural spans to accomodate airy double-height spaces and views to the sea. West Chin explains the house, located in Long Beach, New York:
"Inspired by the folding geometry of the sand dunes nearby and the exuberant urban texture of Long Beach, the C-shell shaped house slopes to maximize views, light and air. The roof bends and cascades toward the ocean to ensure that even the deepest reaches of the house have an unobstructed view."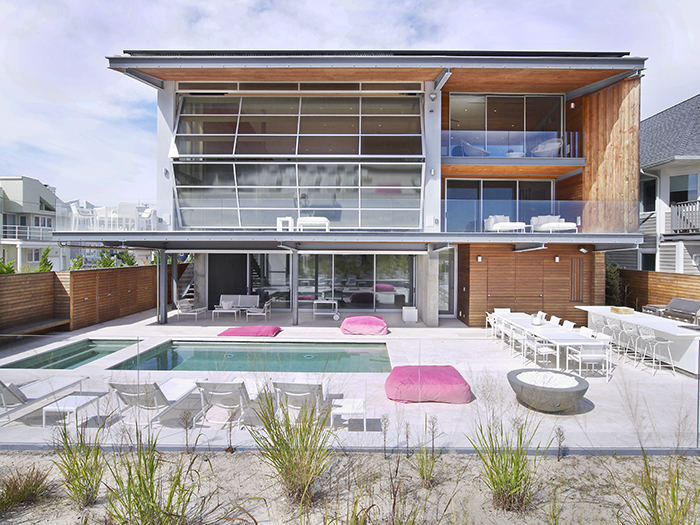 Photograph by Eric Laignel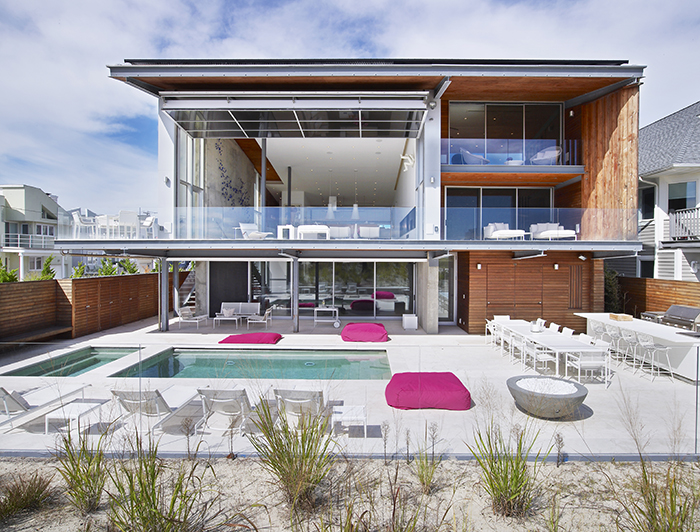 Photograph by Eric Laignel, courtesy of West Chin Architects & Interior Designers
The firm succeeded in achieving a number of structural and material innovations which, besides enabling the spacious interior, help save energy and lend the home resilience against coastal storms. To the south, the roof angles towards the sea, shading the interior from solar gain. But the most striking feature on this façade is the 26-foot-wide airport hanger door, which can be opened for a completely unobstructed view of the Atlantic. Many designers aspire to blur the boundary between inside and outside; here, that directive is pushed to the limit.
The result is a seamless living space that stretches from the interior through to the patio. The family's collection of Schultz furniture is paired with Harry Bertoia's sculptural barstools, suggesting sun-kissed summer evenings with friends.