Workplace Forecast: 2016
What to expect in workplace design in the year ahead
As we say at Knoll, the one constant we can count on is change. With this in mind, Knoll Inspiration sat down with Tracy Wymer, Vice President of Workplace Research & Strategy at Knoll, to review 2015 and look forward to the year ahead. Read on to learn how co-working culture will influence more traditional workspaces, why what's good for people is good for organizations, and why there is no such thing as one-size-fits-all.
What trends will have the most impact on workplaces in 2016?
Hospitality, technology and great design.
1. Hospitality
Workplaces are being positioned almost as hotels with really good concierge service. So many businesses have such distributed workforces, and with flex work expanding around the globe, people and content are flowing in and out and through a building at new rates. How do you manage that flow, and how do we attract people to stay? All of a sudden, we see inspiring design and programmatic elements that welcome and keep people in a space, everything from cafes and lounges to company versions of the Ace Hotel lobby. Corporate facilities are exploring how to bring co-working culture in. How do we make the workplace more hospitable, and how do we foster an organization's culture?
2. Technology Networks
We're just scratching the surface of technology's potential in the workplace's social network. We can start to understand individual preferences: where you like to sit, if it's a free address model, and that you like a flat white coffee. And we can start to communicate these preferences, these networks. So how can visual display show an active network of the workplace, allowing other people to know if you're present and may be available? This information and its communication can help to bring people together who can benefit from being in the same place. It's this kind of 'serendipity' that is so crucial to innovation and creativity.
3. Great Design
Design is taking a more and more central role in the workplace. I come from the Bay Area, where it's almost a mandate to provide high quality workspace; it's seen as a key support for the kind of creativity, innovation and collaboration that are so critical to Bay Area industries. The value of good design for productivity and innovation is being picked up around the globe and adopted by more and more companies, not just the tech or obviously creative ones. We really need to provide more compelling workspaces, especially as everyone is competing for the same talent. And this means supporting a variety of work styles within the same office.
"If you embark on good planning, it cures many ills."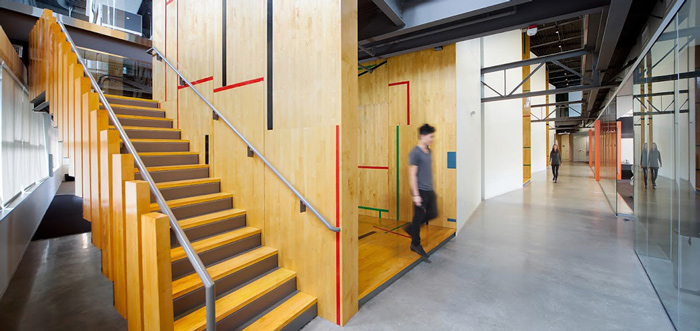 Gensler Seattle designed Tableau, a software company, to enable chance encounters between varied work areas. Image by ye-h photography.
Let's review 2015. You attended WorkTech conferences in San Francisco, New York, Toronto and London, and spoke on panels in three of those cities with experts in related industries. What were two takeaways that have stayed with you?
There is wide acknowledgment of the impact of co-working on workplace thinking in general. Co-working has been a consistent presence throughout all the WorkTech conferences. Certain industries, especially in tech and creative start-ups, are really embracing these mobile working styles, and it's creating a culture not only of expected flexibility in terms of when and where you can work, but also of socializing as part of the creative process. Other industries that may be more traditional are realizing the power of this kind of serendipitous encounter that leads to connections and innovative ideas. And they're also responding to the growing expectation in the workforce that a range of working styles needs to be accommodated.
Another thing I observed was that real experimentation is going on in the financial sector. Tech gets a lot of the headlines, but some banks are creating incredible spaces, like the Australian National Bank. Banks have been at the forefront of trying to think of themselves differently in terms of people and technology.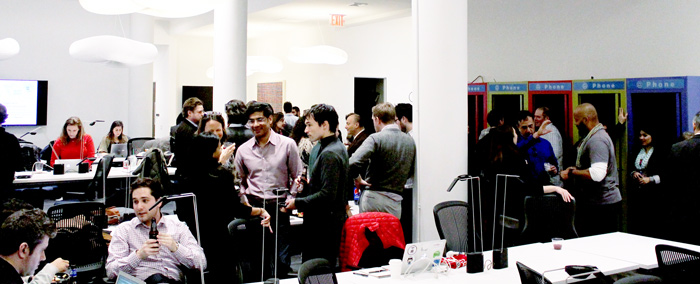 At Civic Hall, a co-working-style space for civic-minded tech startups, community is a major asset. Image courtesy of Civic Hall.
More than ever, we're connected in work regardless of our location. What are some of the influences you observed that came from overseas?
Every project is local and global at the same time. So we can take lessons from projects that we work on in one place that may resonate with a company somewhere else, and vice versa. Beginning at the New York WorkTech conference, I noticed the influence of architects and designers from outside North America, and specifically from New Zealand and Australia. They had a big presence at all the conferences. Part of it is that between New Zealanders, Australians and the Dutch, they've been working on activity-based planning for 20 years. So there's an interest in those countries' experiences.
An organization wants to invest more in its people. What advice would you give?
For the average company, the cost of people is anywhere from five to seven times the cost of real estate. So the real investment companies make is in their people. We're in an age where it's hard to say no to certain things, meaning specifically flex work and the ability to support people working anywhere, any time. I think that's going to be a key demand that companies really have to meet.
To broaden the question a bit: The workplace itself has just become a more humane place. If we go back a few years to the ice cube trays of cubicles packed onto floors, that's not a very humane environment for a lot of people. As we've reconsidered the design of the workplace, it's not about how to make it better for one generation over the other. Everyone feels it's better.
Of course, there are tweaks that have to happen relative to privacy, acoustics, security. In an open benching systsem, what are my implied territories of personal space? Companies are working that out. But I think that notion of a myopic generational design view is incorrect. Rather, it's about making very humane choices about what you provide in the workplace, versus focusing on one individual or group.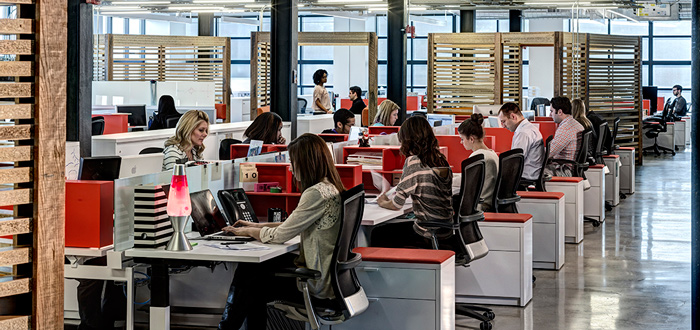 Lowe Campbell Ewald, an advertising and marketing agency, balanced needs for collaboration and privacy in an open plan.
What is one myth about the workplace that you hope will be clarified in 2016?
There's been a lot of talk about the open plan failing, and its negative impact on people in terms of focus, privacy and so on. But if you embark on good planning, it cures many ills. So it's not about it being one model—be it open plan, private office or a hybrid—that is appropriate for everybody. It's about putting in the time to understand a given organization's work, culture, digital flow, and creating a workplace that will suit those needs.
So it's not about either end of the spectrum being bad, and that there's just this mythical happy middle. It's really about creating the right environment that's going to support the culture and work that your people are engaged in.