Knoll Works 2021☰
SPACES
---
Capitol Projects
NBC's Washington, D.C. HQ is tuned in to hybrid work
Office workers might be putting in longer hours than past generations, but most offices still turn off their lights. Not at the NBC News Washington, D.C. headquarters, where journalists report on a 24-hour news cycle from the steps of the Nation's capital. The always-on, techheavy nature of broadcast journalism places heavy demands on the workplace, which not only must meet stringent technical requirements but also be visually appealing on-air and comfortable for employees who spend long hours at work.
Occupying three floors of a high-rise across from Capitol Hill, NBC's Washington Bureau now has a ringside seat to politics—a major location improvement over its former Nebraska Avenue NW space, the organization's home for roughly 60 years. In the new office space, designed by New York-based studio Meridian Design Associates Architects, the seventh-floor assignment desks are every bit as important as the broadcast studios.
The project is a case study in planning open plan, private office and community spaces.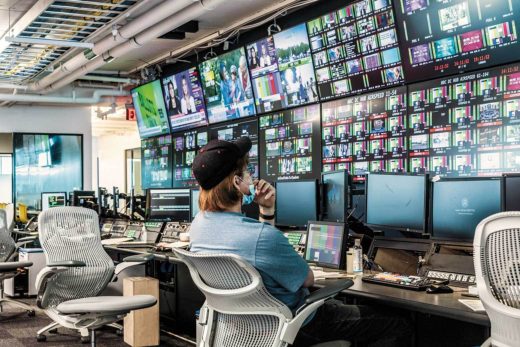 "Assignment desks are essentially where the news breaks, so it's the center to the rest of the workspace and accessible by all the different groups that make up the news-gathering team," says Carlos Young, Senior Associate at Meridian. The 120-degree Antenna Telescope workstations group closely collaborating journalists in sixperson pods. They also provide 360-degree views of the rest of the office, including a full-height intake video wall and various flash camera locations for correspondents covering breaking news.
"The most physically challenging aspect was the low ceiling heights and overlaying the infrastructure required to support their technical needs and 24-hour news operation," Young says. Meridian navigated the problem with the help of 3D modeling tools, the expertise of a team of engineers and a stellar general contractor, keeping the project on schedule.
If the open plan assignment desks are the hub of the organization, the executive and support staff offices are the spokes. Everyone from HR to finance and on-air talent such as Pete Williams and Tom Costello has offices on the seventh floor. Privacy is essential when hosting highprofile guests. "A little trivia that we learned through working with them is that, before Covid-19, they conducted over 120 interviews on a daily basis with personalities who are somehow movers or shakers or politicians in our national government," says Luis Roges, Meridian's Operations Principal.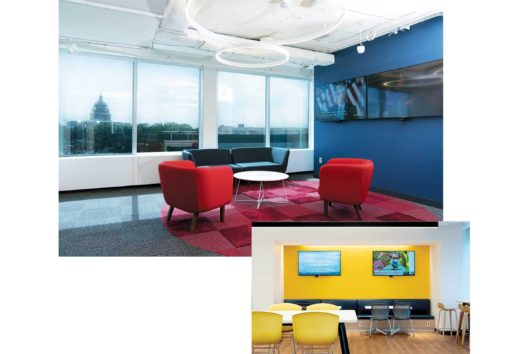 Throughout the space, the designers incorporated NBCUniversal's dark-blue brand color, along with NBC's array of peacock colors. They also provided a variety of open and closed spaces for collaboration: Enclosed spaces offer discretion when talking with a source with sensitive information, while lounge-style spaces can be used for more informal meetings.
The eighth floor—originally conceived as a renovation of existing studio space that NBC News already occupied— experienced a major setback when the floor caught fire toward the end of Meridian's design phase. But that allowed the architects to reconfigure the space from scratch. Now, a cafe invites in-the-field crew members to touch down, grab lunch or a snack, or even hunker down with a laptop for the day at one of the high-top tables or the soft benching along the wall. "The key design principle for the cafe was to have an assortment of seating and offer flexibility and variety in terms of how they could use a space," Young says. When everyone is able to return safely to the office, it can also be the site of company gatherings and catered functions.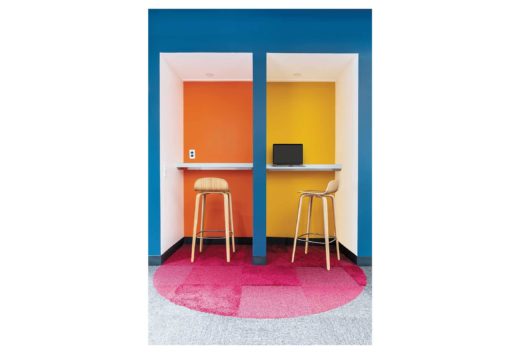 Looking ahead, Jay Hurt, Vice President of Operations and Engineering at NBC News Washington, predicts a hybrid work arrangement, in which employees split their time between home and the office. "A lot of people have really taken to the idea of teleworking, especially those commuting into 30 Rock, in New York or other cities, where the commute can be quite grueling," he says. "I don't think we'll have a 90 percent occupancy ever again at any of our offices. The way in which technology has improved makes that possible now. It really wasn't five years ago."

But technology has also made employees more accessible at all hours. "You're never off the clock anymore," Hurt says. "The next phase of working from home is to manage personal life and work-life when they're in the same space."
Courtesy of Meridian Design Associates, photography by Geandy Pavón
---
This story is from Knoll Works—our annual publication showcasing how our constellation of brands and planning capabilities create inspiring workspaces.