Knoll Works 2021☰
SPACES
---
At Home
in the
Neighborhood
Flywheel Offers Community Everywhere
A few years ago, Flywheel faced the problem of all successful startups: As it added employees, it outgrew its office space. But unlike many of its tech brethren, the company didn't want to decamp from its Omaha home to an isolated office park. Instead, Flywheel's founders were determined to weave more fully into the city's fabric. So when they heard about Millwork Commons, a 50-acre redevelopment project in North downtown Omaha, they signed up to be the neighborhood's anchor tenant.
Flywheel launched in 2012 as a Wordpress-hosting upstart for home in the designers and creative agencies, establishing a set of principles including "design matters." For its new space, completed in August 2020 as employees worked from home due to the pandemic, the company wanted to translate that ethos into a dynamic environment that would not only nurture the company's collaborative culture but also provide a range of flexible settings to support the varied working styles of its employees. In step with 2021 requirements, designing spaces that accommodate the physical, emotional, and communal needs of everyone also ensured that the office would be a welcoming post-Covid meeting ground.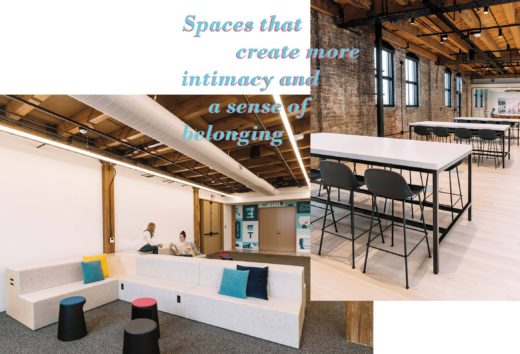 To create more intimacy and a sense of belonging in the sprawling 65,000-square-foot space, the designers at Alley Poyner Macchietto Architecture broke it up into smaller "neighborhoods," each with a mix of freestanding desks supported by Antenna® Power Beam, meeting rooms and seating areas. Every zone features a signature color tying back to Flywheel's vibrantly hued identity. "No matter where you are in that neighborhood, you will see that color," says Erin Trofholz, the lead designer on the project. "Not only is it wayfinding but a means of incorporating the boldness of their brand without overpowering the historic nature of the building."
Running through the space's center—or what Flywheel calls the "heartbeat"—is a bustling area accessed through the thirdfloor reception. This activity hub invites "creative collisions" among employees from different departments as well as a staircase leading to the break room on the fourth floor, where employees, once they return to the office, will enjoy occasional catered lunches. Quieter, calmer neighborhoods are located away from the center toward the edges of the space.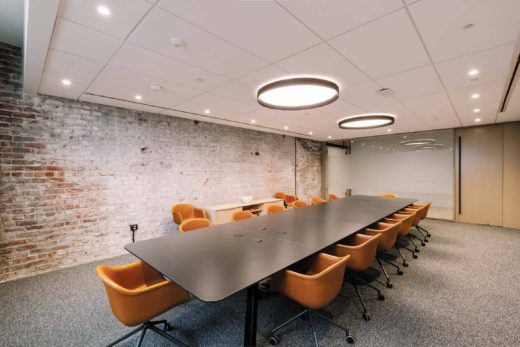 But don't expect to see private offices. Everyone, including the leadership team, works in the open at height-adjustable desks, many of which made the move from Flywheel's old space but with a noticeable improvement—cable management—thanks to Antenna Power Beam. "One of my biggest pet peeves of our old office was that there were cables everywhere, because we cobbled together these custom-manufactured standing desks," says Dusty Davidson, Flywheel's Cofounder and CEO.
Davidson discovered Power Beam on a tour of the Knoll space in Chicago's Fulton Market, becoming the first customer to place an order through Knoll dealer CI Select. "It was really timely and the perfect solution for what I had in mind for a clean way to manage standing desks in an open-office environment," he says. Plus, Power Beam helped Flywheel stay within budget by marrying the old standing desks with new ones through a consistent streamlined aesthetic.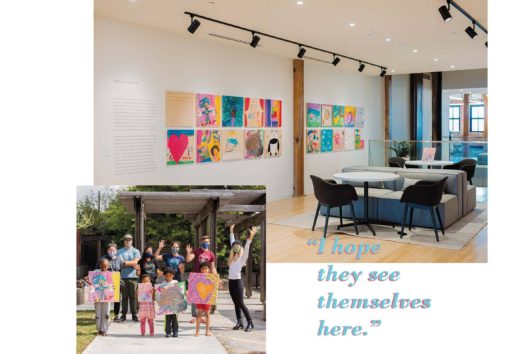 Flywheel also remains committed to keeping its doors open to members of the community. Its "All Hands" room, furnished with reconfigurable Rockwell Unscripted® Steps, will be available for free to community organizations and nonprofits. Through its Community Canvas program, the gallery allows any employee (or group of employees) to partner with an organization to propose an exhibition. The first project was a partnership between Rise, the company's internal group dedicated to Black, Indigenous and people of color, and the Union for Contemporary Art, a North Omaha nonprofit organization that uses art as a vehicle to inspire positive social change. They collaborated and installed a gallery wall of art created by children with the theme of "Hope" during the pandemic.
"We want to bring people through the space who wouldn't necessarily see themselves here," Davidson says, "and in doing so, I hope they see themselves here."
Photography by Emma Morem
---
This story is from Knoll Works—our annual publication showcasing how our constellation of brands and planning capabilities create inspiring workspaces.