Knoll Works 2021☰
SPACES
---
Embracing the Future of Work
Secure Energy Reshapes Space for Work and Life
When it became clear that the workplace would change due to the global pandemic, Jennifer Smith, Director of Learning and Culture for Secure Energy, grabbed a tape measure and ran over to the company's new headquarters, which was then under construction. "I thought, 'Oh, my gosh, how far are these workstations from each other?'" she recalls. As it turned out, seven and a half feet, measuring from the center of one Knoll desk to another. If separated by a hallway, the distance was closer to nine feet—more than enough to comply with social-distancing guidelines. "It was just serendipitous," Smith says.
That was just one of many fortuitous moments confirming Secure Energy's decision to upgrade its workplace, moving out of its former cramped space and into a newer building that could support an agile, mobile, and tech-savvy workforce.
Even before Covid, leadership at the Calgary-based energy services company understood the need to enable its people to work from anywhere, while also providing an inspiring physical space for bringing people together for face-to-face networking when everyone can come back to the office.
"Since the bulk of our customer base is in the field," says Smith, "we decided early on that working remotely and having technology that would enable that was the future of work."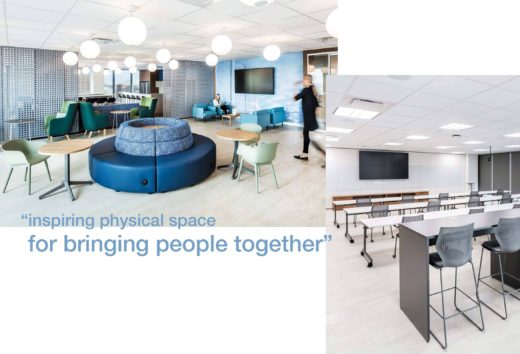 But the old space, in a 1970s office tower, was stuck in the past. Only one highly coveted meeting room was equipped with Microsoft Teams, and upgrading the technology in all the other rooms in the old infrastructure didn't make fiscal sense. At the same time, a move would allow the organization to update the workstations with sit-stand options and provide open, transparent spaces expressly to bring employees together for unplanned, innovation-sparking collisions. "In our old space, employees had the option of working from their desk—which might be a cube, might be an office—or working in a meeting room," Smith says. Now, in a new three-floor, 79,000-square-foot workplace designed by local architects Jerilyn Wright & Associates, employees have myriad ways of working, whether it be in a flex room, phone booth, or staff lounge.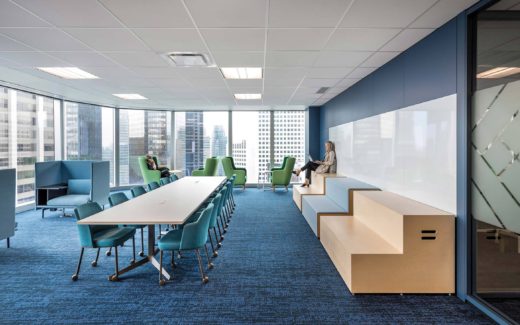 Secure Energy decided against an open floor plan and the notion of hot-desking. "We believe that a person's connection to their spot is still important." Through Knoll furniture dealer Element, Secure Energy outfitted each socially distanced workstation with a k.™ stand Height-Adjustable Table, Anchor storage, and a ReGeneration by Knoll task chair. Antenna desk-mounted screens provide privacy without obstructing an employee's visual connection to the rest of the space. The screens also help protect co-workers from wayward germs: "When we know Covid is over," Smith says, "we still don't want people to get colds from each other."
The private offices are no less carefully considered with plenty of personal storage. Executives sit on Remix® chairs at Reff Profiles™ Height- Adjustable Desks, with a Reff Profiles credenza and wardrobe cabinet. A Dividends Horizon® meeting table with power offers a spot for small huddles.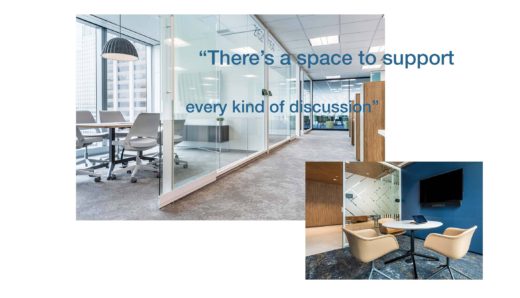 Secure Energy reserved the corners of the floor plans for communal flex rooms that everyone can enjoy. Not only do they command the best views, but they also reflect the preferences of the groups that use them the most. From a list of pre-approved furnishings, clusters of employees chose everything from seating to whiteboards. "Because the work groups designed the room, it feels a bit like a neighborhood from one corner to the next," Smith says.
Jerilyn Wright & Associates designed the other communal collaboration spaces using the brand's nature-inspired colors of blues and green, geometric graphics, and comfy seating reminiscent of a hospitality setting. Scattered around the office are inviting touchdown spots comprised of KnollTextiles-upholstered lounge seating—including Pilot by Knoll®, Muuto Outline, and Rockwell Unscripted® High Back and Club Chairs—combined with various work surfaces such as the Rockwell Unscripted Occasional Tables and Muuto Relate Side Tables.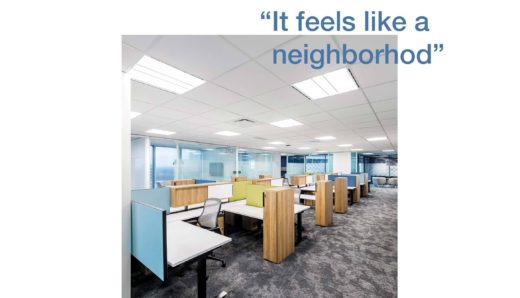 "There's a space to support every kind of discussion," Smith says. "If it's a coffee or a check-in, you can go sit someplace that's a little more casual. If you're running into people in the kitchen, and you start having a dialogue, you can walk off to a meeting area, instead of, 'You go back to your desk, and I'll schedule some time with you to have a meeting.'"

Perhaps the best part of the office is its adaptability. "You think the office is finished, but it's not," Smith says, "because that office over there might be a meeting room next year. It might be six workstations. It might be an addition to a flex room. We have no idea. It'll be whatever we need it to be, and we're excited about that."

Photography by Wiktor Skupinski
---
This story is from Knoll Works—our annual publication showcasing how our constellation of brands and planning capabilities create inspiring workspaces.