Sales Teams
We bring you an international perspective through our sales and service teams worldwide. Whether you are refurbishing a small office or orchestrating a large project with complex logistics, we and our Knoll dealer partners can guide you through the process of defining your furniture needs, meeting the highest standards for quality, on-time delivery and customer service.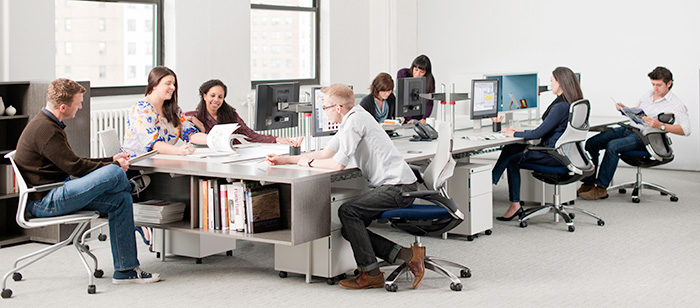 Knoll Office
Through research and experience worldwide, we solve practical workplace needs with a comprehensive product portfolio that responds to individual workstyles and supports organizational goals.
Paige Roberts


Senior Vice President, Sales, Distribution and Customer Service
215 679-1715
proberts@knoll.com

Global Business Division

Knoll provides furniture products and services worldwide through over 300 independently-owned full service dealers. Knoll manufactures in the U.S., Canada and Europe. Global Business Division works with the client and Knoll sales organization to identify the resources, team, roles and processes to meet the client requirements for global standards, project execution and consistent communications.
Learn More about the Global Business Division

Alan Howard


Senior Vice President, International and Global Business Division
212 343-4085
ahoward@knoll.com

George Nutty


Vice President, Global Business Division
602 686-5135
gnutty@knoll.com

Architecture & Design

Knoll Architecture & Design Managers work with the professional design community to share the Knoll point of view on workplace planning, research, sustainable design and product solutions. Knoll A&D managers also offer planning resources and product collateral to help guide the specification process of Knoll for the workplace.

Government/GSA

Since our founding, Knoll has helped government institutions create facilities that inspire, evolve, and endure. We understand the needs of these organizations, from federal to state and local governments, from high schools and community colleges to public and private universities.
Learn More about Knoll for Government

Government/Canadian Federal Government Program

Knoll has been working with the Canadian Federal Government since the early 1960's. We understand the Government of Canada's new Workplace 2.0 Fit-Up Standards and can help Canadian departments create modern workspaces that will attract, retain and enable its employees to work smarter and more efficiently to serve Canadians better. We are committed to helping the Canadian government with its' mandate to create open, flexible and dynamic workspaces which allow for innovative design and better use of space. Please contact us below to explore further.
Learn More about Knoll for Canadian Federal Government

Education and Healthcare

Knoll offers a range of durable, reliable and attractive products well-suited to the demands of education and healthcare environments.
Learn More about Knoll for Education
Learn More about Knoll for Healthcare

Carrie Myers-Van Berkel

Education/Healthcare Manager
Covers: MI, IN, OH & KY
614 595-1087
cmyersva@knoll.com

Dealer Brand Managers

Dealer Brand Managers focus on partnering with local Knoll Dealers, supporting training and networking while driving new and small to medium size business. Partner with a Dealer Brand Manager to help you identify qualifying Knoll Essentials products that deliver in just four weeks or less.


Business Development

Knoll Business Development Managers work to identify new opportunities, build strategic relationships and increase brand awareness and visibility to help generate and drive new business in their respective territories.

KnollStudio

KnollStudio is your resource for modern furniture. The collection includes iconic pieces from the great modernists and exciting new products from today's best designers. Life changes, but quality endures.

KnollTextiles

KnollTextiles is one of the largest textile suppliers in North America, with products developed for healthcare, hospitality, educational, corporate, and residential interiors.

Muuto

Muuto is rooted in the Scandinavian design tradition characterized by enduring aesthetics, functionality, craftsmanship and honest expression.

DatesWeiser

DatesWeiser offers a range of impeccably crafted furniture for conference rooms, private offices and reception areas. A vast portfolio of mixed materials and adaptable product lines allow for seamless integration into any environment.

Spinneybeck and FilzFelt

Spinneybeck offers full grain, aniline dyed Italian leather in over 1000 colors and 30 families of leather. FilzFelt carries 100% wool felt products, including floor coverings, hanging panels, wall panels and felt by the yard.

International

Knoll is represented by showrooms and dealers worldwide.