Reimagining the Workplace
At Knoll, we've learned that people don't want to merely survive, post-pandemic. They want to thrive. Now is the time for organizations to reimagine, recalibrate and reinvent the way they work and do business.
The Thriving Workplace is a more humanistic and resilient workplace, one that leverages a multi-layered ecosystem of work and the power of design to create opportunities to facilitate conversation, togetherness and a sense of belonging.
DISCOVERING
The Thriving Workplace
ELEMENTS OF THE WORKPLACE
Our research suggests we are on the brink of transformative change. The Thriving Workplace is an opportunity to build a new, more humanistic environment that powers the workplace ecosystem, delivers a cultural hub, embraces flexibility, offers a variety of choice, leverages technology and encompasses holistic well-being. These six elements define The Thriving Workplace.
POWERS THE WORKPLACE ECOSYSTEM
The Thriving Workplace is more than simply the office; it is the heart of the organization. It powers a complex and expanded ecosystem that gives employees the flexibility to work from headquarters, a satellite office, home, a coworking space or even from a third space—like a café or on the road.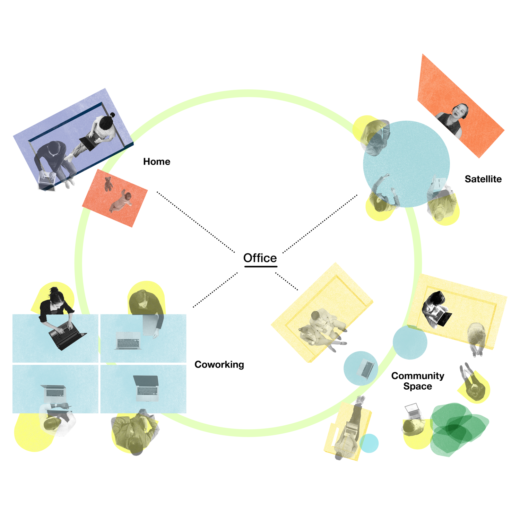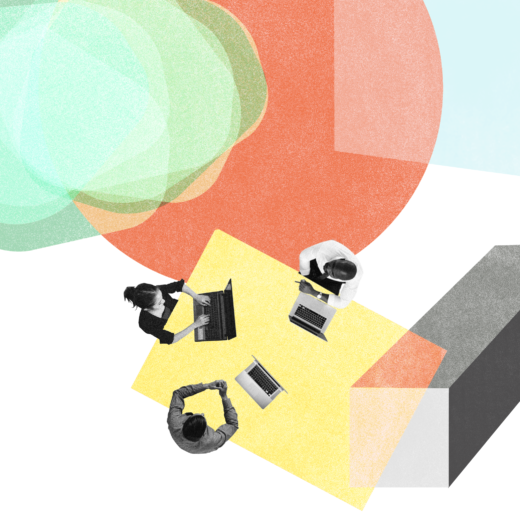 DELIVERS A CULTURAL HUB
Today's workplace goes beyond accountability and efficiency–humans are social beings who long for connection. The Thriving Workspace is designed with visual cues that effectively bring teams together—for brainstorming, problem-solving, learning, idea exchange and knowledge-sharing.
EMBRACES FLEXIBILITY
Today's workplaces need to be agile, resilient and easily adaptable over time. Adopting a furniture-as-architecture approach provides flexible space planning solutions that allow employees to change their spaces to adapt to their needs and shape their own experiences.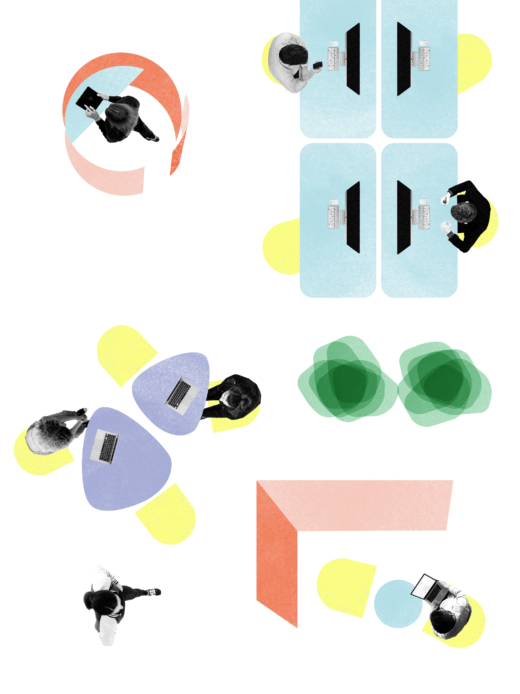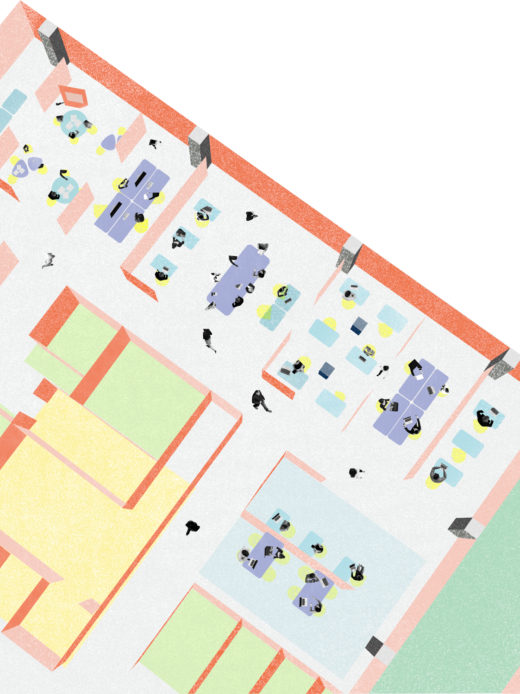 OFFERS A VARIETY OF CHOICE
Companies need to create a free flow of space that gives employees a landscape of choice of where and when to work. Developing spaces that align with employees' needs and personality is key. Through proper space delineation and furniture selections, collaborative environments can be supplemented with more intimate spaces for teams who need time alone to create well-rounded thoughts, ideas and creations.
LEVERAGES TECHNOLOGY FOR "PHYGITAL" COLLABORATION
A phygital space provides both technologically advanced tools that facilitate connection and collaboration and makes room for analog experiences for all attendees—remote and in-person—in spaces that promote participation, enable knowledge sharing, encourage collaboration and support the meeting's goal.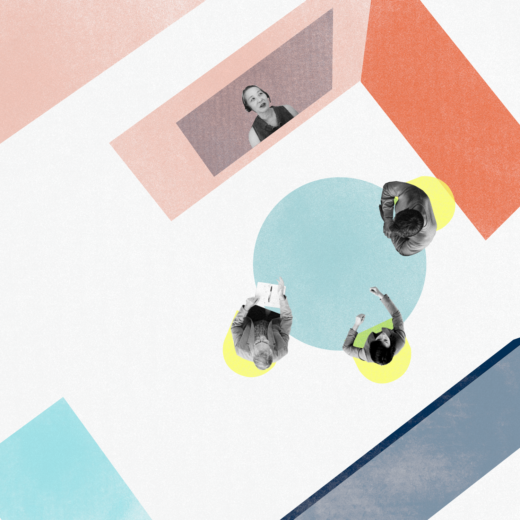 ENCOMPASSES HOLISTIC WELL-BEING
People considerations dominate the direction of the future workplace. Embracing a wide range of styles and voices of employees of different identity groups, and making cultural differences a resource for learning will no doubt improve organizational effectiveness.
DESIGNING
The Thriving Workplace
DYNAMIC NEIGHBORHOODS AND ZONES
As the hybrid workplace emerges, and organizations roll out a distributed work strategy, flexible, highly adaptable spaces are needed more than ever. What are some new spaces going to be like as you create your own unique neighborhoods and zones within a dynamic, Thriving Workplace? The possibilities are infinite.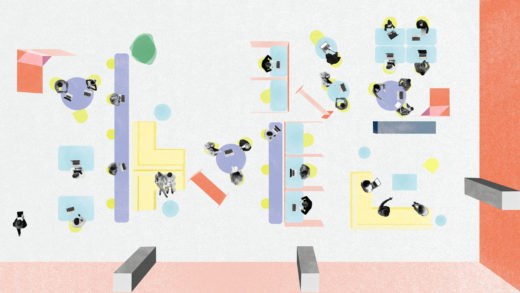 CO-CREATION WORKROOM
---
Spread out, rearrange and throw ideas against the wall while seamlessly transitioning from group work to individual and smaller team activities, all within the same highly flexible and comfortable neighborhood.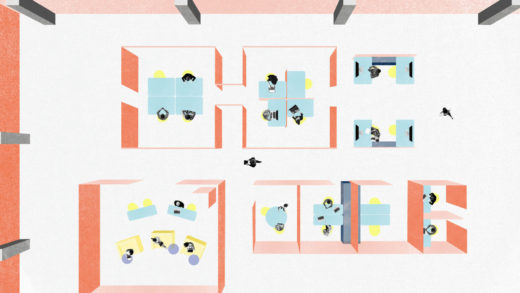 PROJECT STUDIO
---
Begin with the end in mind by engaging in purposeful, goal-oriented activities in productive settings that can shift and evolve as projects progress and move through different phases of work.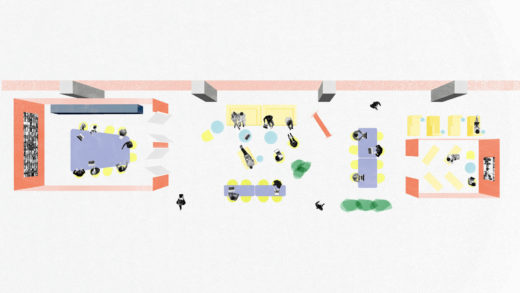 VISITOR/GROUP GET-TOGETHER
---
Convene with visitors or teammates to share, socialize, build community and culture in living room-style settings that easily segue to a range of meeting experiences whether in person or across video with remote participants.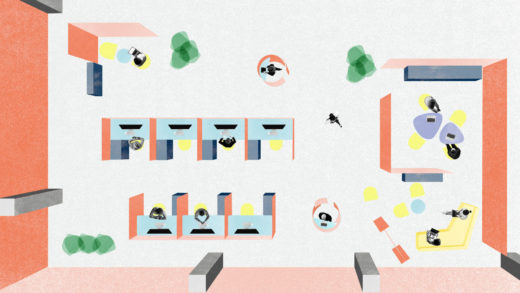 RESIDENT RETREAT
---
Check in for some deep work–be it a few hours, a day, a week or more–in a neighborhood that not only delivers shelter for productive focus work but also inspires a sense of belonging, serenity and flow.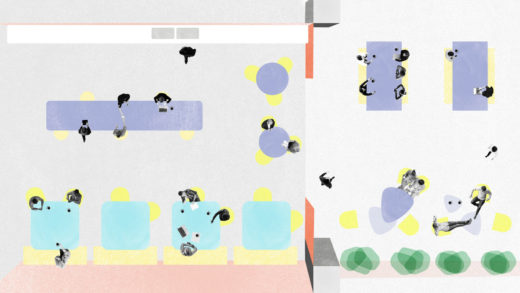 SIDEWALK CAFÉ
---
Embrace the buzz. Leverage high-traffic spaces to bring people together in informal ways—supporting impromptu "bumping into each other" experiences. It's a hospitality setting that nurtures a sense of belonging, whether you're connecting with others or simply desire to work "alone, together."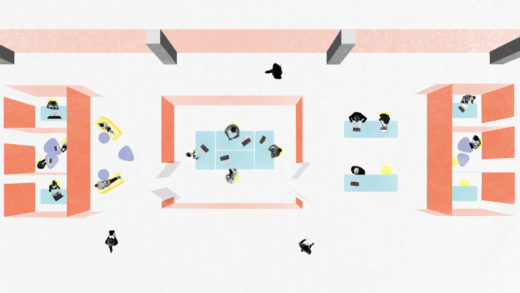 CENTRAL AGORA
---
Come together for community building and connection. This free zone is centered on an open town square–style event space that allows people to exchange ideas, learn and get their social fix in a reconfigurable gathering area. When there's no event, it's another space to sit down and think.