Carol Wilson in Casco Bay
A Maine summer home exhibits deference to the beauty of nature
After many years of vacationing in Maine, two longtime Chicago residents decided to build their summerhouse on Chebeague Island in Casco Bay, near Portland. The married pair bought a small plot of land and enlisted the help of architect Carol Wilson, who they met socially, to help design a home that wouldn't detract from the natural beauty of coast.
The couple is exceptionally design literate (the husband being a former advertising executive) but neither wanted to place the focus on the architecture. Wilson explains how, when confronted with a minimal interior, the eye naturally gravitates elsewhere, to the trees, the water, and the sky. "Being on a island dictated much of the design," adds a member of Wilson's staff, "there was no question of not keeping it simple." With its exposed-steel mullions, the structure tacitly rejects unnecessary adornment. The end result can be characterized as praire style meets Danish minimalism. Referencing Knoll designer Mies van der Rohe's famous Farnsworth House, the home's water-facing exterior is entirely glass, affording a serene view of the ocean.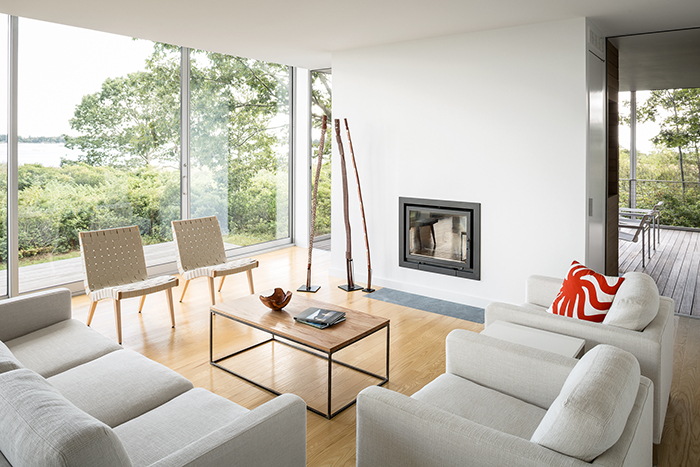 Photograph by Trent Bell.
In keeping with the home's architectural intentions, the choice of furnishings is equally restrained (which explains the dearth of textiles). The living room consists of two thatched Jens Risom Lounge Chairs and subdued pearl-grey sofas. "They are timelessly beautiful in their simplicity," Wilson explains of the Risom chairs, "the open-weave construction allows for transparency that pairs elegantly with the architecture." A simple coffee table references the home's box-like structure and the tabletop was made from wood harvested in Maine. Three emaciated sculptures add texture while a nearby throw pillow provides a hint of color.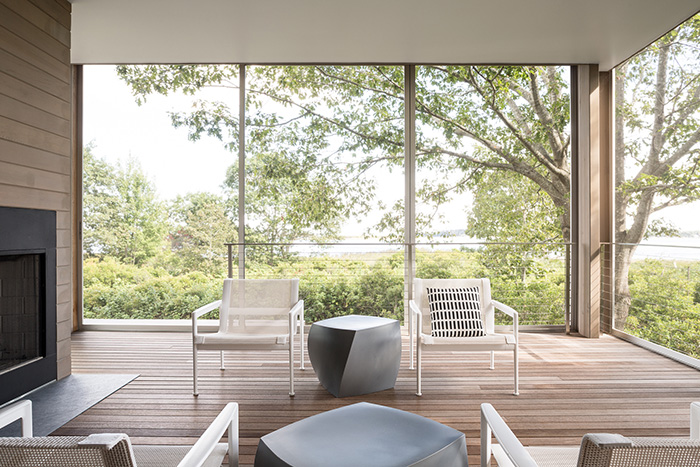 Photograph by Trent Bell.
The patio, which remains entirely enclosed, comprises four Richard Schultz 1966 Lounge Chairs and a pair end tables. Eschewing artwork in favor of panoramic views of the island, the couple considers nature to be equally worthy of aesthetic contemplation.
Project Credits:
Design: Carol Wilson
Photography: Trent Bell