Lourdes Fernandez-Grattan's Art-filled Home
Iconic pieces from Knoll set a timeless backdrop for a family's modern art collection
Although a designer by trade, Lourdes Fernandez-Grattan felt a particular challenge when it came time to furnish her family's recently remodeled home in South Miami. "Selecting from the large array of furnishings available in the marketplace can be daunting," especially when you have to appease the tastes of multiple generations living under one roof. As a solution, Fernandez-Grattan opted for classic pieces from different periods in design history, to create an unobtrusive backdrop that put the emphasis on her family's extensive collection of modern art.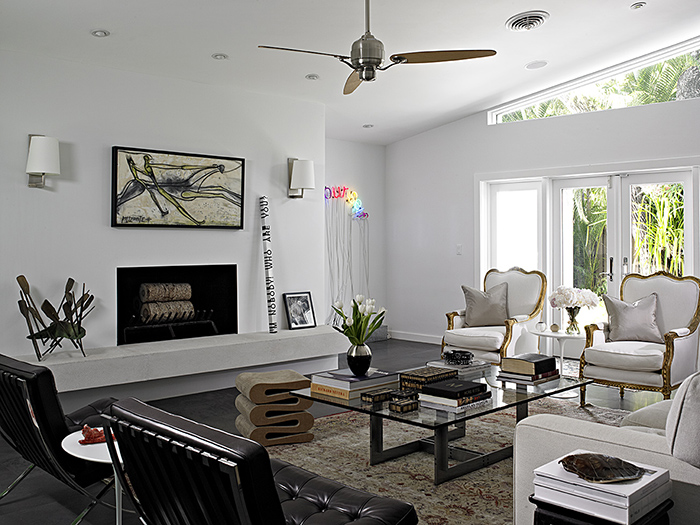 Photograph by Carlos Domenech.
The pair of Barcelona Chairs was an obvious choice, according to Fernandez-Grattan, "I was secure that these chairs by the renown architect, Mies van der Rohe, were so clean and classically designed, that they would always work in my home, no matter where [they were] placed. " The two nested Saarinen Side Tables function in a similar manner, blending in with the collection while standing up to a more scrutinous eye. Meanwhile, Knoll designer Frank Gehry's Wiggle Stool adds an element of visual irreverence.
White, black, and grey make up the predominant color palette, allowing for a complex interplay of accent colors: the gilded detailing on a pair of Louis XV-style armchairs, the rainbow-colored neon sign, and red-patterned Turkish rug.
An excerpt of one of Emily Dickenson's most popular poems "I'm nobody, who are you?" is emblazoned on an all-white rectangular prop which leans against the fireplace, reminiscent of the precarious positioning of Richard Serra's interactive sculptures.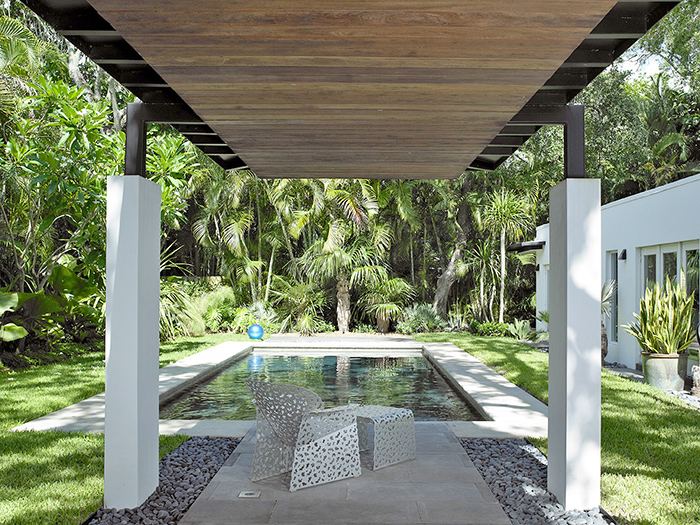 Photograph by Carlos Domenech.
When one leaves the domain of the home, the focus quickly shifts from art to nature. The property is enclosed by the natural overgrowth of Florida, a variety of different species of palm trees. The enclosing is intentionally reminiscent of an oasis, with the pool positioned in the center amongst the surrounding trees. Although sparsely furnished, "[Richard Schultz's] Topiary Lounge Chair was the perfect addition to the serene feel of the garden," Frenandez-Grattan explains, "the sun's reflection on the chair and ottoman create a variety of shapes and give the illusion of movement, like leaves on a tree."
Taken as a whole, the property tells a collective story, with man-made beauty showcased inside the house and the natural beauty of Miami's flora preserved along the perimeter.
Project Credits:
Design: Lourdes Fernandez-Grattan & L-Studio
Photography: Carlos Domenech