Knoll Works 2022☰
SPACES
---
The Future
is Flexible
Cooper Carry embraces the hybrid workplace
At the onset of Covid-19 pandemic, like so many companies in the U.S., Cooper Carry closed its offices. Over the following year, a handful of employees began trickling back—and leadership wanted that number to eventually grow, since their culture as an interdisciplinary architecture and design firm was predicated on in-person collaboration. With clients contemplating the future of the workplace, Cooper Carry saw an opportunity: What if it could inspire its own staff to return to the office by turning its own headquarters into a test bed tailored to the new hybrid way of working?
The studio had a long way to get there. For 13 years, each designer had their own custom millwork workstation. With only two floors and 50,000 square feet, the 350-person company had little space left for collaboration. The huddle rooms and the large conference rooms were always booked. "We were busting at the seams, and even before the pandemic, started ripping out chunks of the built-in desks and putting in benching, which was much denser, because we needed more room for 'me' space," says Cooper Carry Principal Brian Parker. So, while everyone was working from home, he hatched the idea of reimagining the entire office using the Rockwell Unscripted® Creative Wall™ system—freestanding, reconfigurable walls and frames for creating spaces within a space without construction or additional sprinkler, mechanical, or HVAC systems.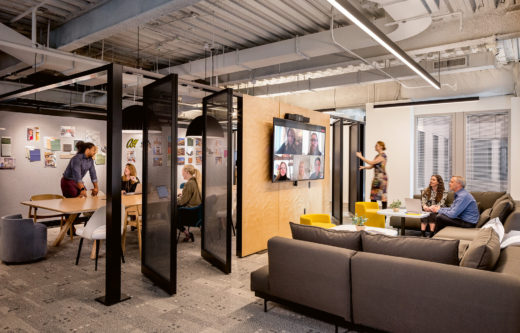 But first, some of his skeptical colleagues needed to make sure that Creative Wall compared favorably to their old workstations. So, Knoll invited them to tour—and work in—the Atlanta showroom, which had been arranged with different Creative Wall vignettes and filled with Knoll staff to simulate ordinary working conditions. "The idea was to drive home the point that their space could be open and collaborative but would still allow for privacy and also for quiet areas," says Jane Hunecke, an Ancillary Relationship Executive at MillerKnoll. It worked: once the designers inspected the Creative Wall system, they were convinced.
But Cooper Carry wanted to evolve its offices even further. The "me" spaces would be agile; anyone could use them. "Many other companies had already been doing that," Parker says, "but for a design company, it was pretty far out there." The workstations were also reduced in size, freeing up real estate to address the demand for smaller meeting spaces versus big conference rooms. "In the hybrid world, we knew there would still be some people on the screen and the rest in the room, so we didn't need those 12-by-20 rooms anymore," Parker says.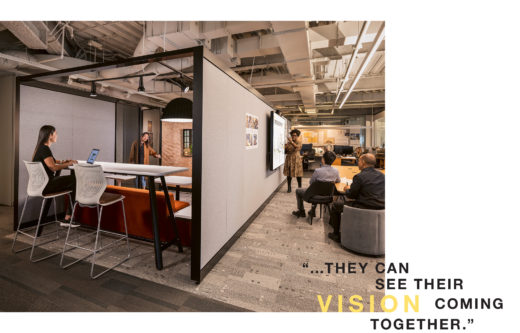 Working with Knoll and furniture dealer Corporate Environments, Cooper Carry broke up the offices into multidisciplinary "neighborhoods" determined by the firm's many different project types, including hospitality, higher education, and residential. Each neighborhood leader was given a "studio kit"—a menu of spaces for different functions—and the license to structure their zones according to how their teams tend to work best. Every group carefully considered its ideal mix of parts—the number of huddle spaces, tiny booths, or larger spaces for design charrettes— to support their team's productivity and collaboration.
Thanks to Knoll's use of the CET Designer software platform, the designers could see how their neighborhoods would look before they were built. During client meetings at the Knoll showroom, Corporate Environment's senior project designer, Kristina Lawrence, used the program to map out the possibilities in real time. "CET allows me to build a design spatially in 2D, then bring it to life in 3D at the same time," she says. "It's really helpful for the A&D community because they can see their vision coming together."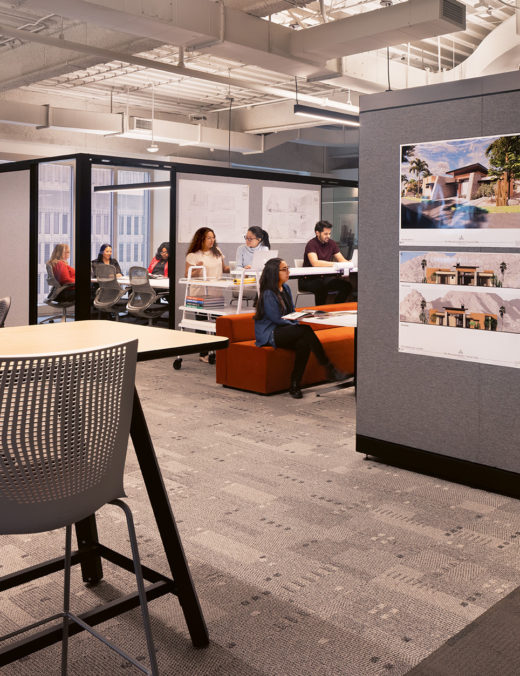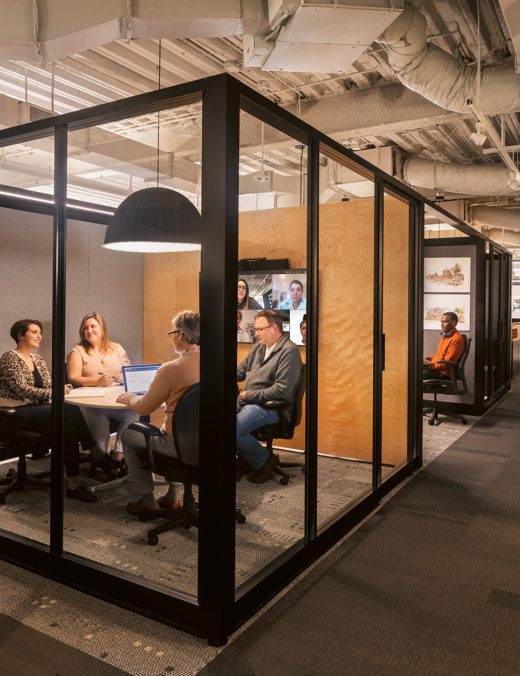 It was essential that the studio retain the LEED Platinum certification they had achieved in 2009. Knoll made it easier to reach that goal by ensuring that each product it designs and manufactures targets environmental standards relating to its material content and production process. The lighting required an update to comply with LEED standards but to also enhance the different spaces within each neighborhood. Muuto Under the Bell pendants, for instance, create a warm environment of diffused light as well as controlled acoustics, while LED lights illuminate long walls displaying presentations for clients. The overhead electrical was also rewired with many outlet points to allow lights to be moved around easily.
Now that the Cooper Carry teams are using their neighborhoods, their offices have become a proof of concept for Parker's desire for more iterative and quick change solutions that aren't weighted down by mechanical requirements. Spaces delineated by Creative Wall can be deftly reconfigured when working patterns change. "Prior to the pandemic, our clients were asking for agility and flexibility," he says. "Now I'm calling for hyper-flexibility."
Photography by Jonathan Hillyer Photography, Inc.
---
This story is from Knoll Works—our annual publication showcasing how our design and spatial planning approach helps create places people love to be.