Knoll Works 2022☰
SPACES
---
Powered
Up!
GreyStone energizes its space for collaboration and celebration
GreyStone Power Corporation prided itself on its close employee network, but it didn't have enough space to celebrate like one. Apart from one large conference room, which hosted baby showers and retirement parties, the cramped 30-year old headquarters offered few other places for employees to gather. So, when it decided to move to a 194-acre campus outside of Atlanta, it engaged the local design firm Smallwood to create a collaboration-friendly environment designed with the intention to attract new talent and retain longtime employees.
That meant striking a balance between cutting edge and traditional, as well as between open and private spaces. "We did not want to go too modern," says Brandon Knight, GreyStone's Director of Process Improvement. "But, we also knew that we needed something that would push the envelope a little bit." Knoll, working with Smallwood and dealer Corporate Environments of Georgia, devised a comprehensive solution by leveraging brands in the MillerKnoll collective, which includes Muuto and DatesWeiser in addition to Knoll.
Using the collective of brands as a single-source furniture supplier hit the mark not only in terms of aesthetics but also budget. Rather than breaking up the project among multiple vendors, JLL, the property management company handling the furniture procurement process, advised GreyStone to deliver and install by using their team as a one-stop shop.
In consultation with the designers and dealer, Knoll took a hands-on curatorial approach to outfitting every space. "In that process, we developed a really great relationship with the end users at GreyStone," says MillerKnoll Client Development Executive Kristin Liezenga, "because we sat down for hours and weeks and months on end talking through their specific design solution."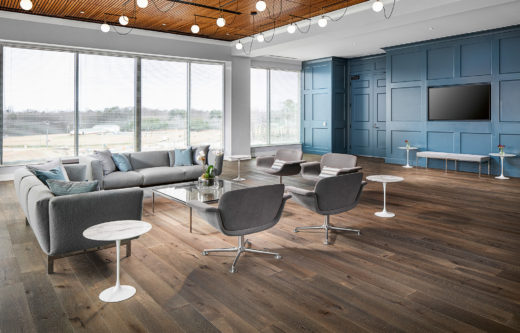 In the lobby, the brand colors of blue and grey are translated into timeless furnishings that feel both welcoming and sophisticated. Against a mural celebrating GreyStone's power-line workers, classic upholstered Florence Knoll lounge chairs and sofas are stationed around low coffee tables that bring in natural elements with marble tops and wooden bases. Customers of the company's credit union may comfortably wait for service in more casual back-to-back, k.™ lounge sofas paired with conveniently placed side tables.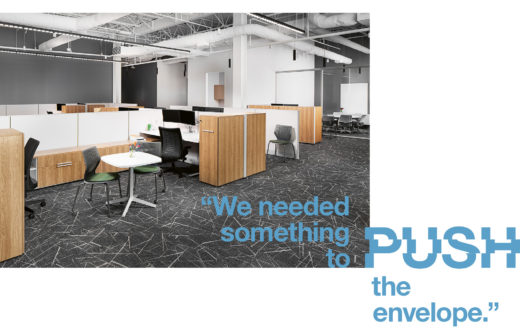 For employees, GreyStone updated their traditional private offices with glass fronts to foster transparency but reduced their footprint to make room for 25 conference rooms and 15 communal lounges. Despite their smaller size, the offices have enough seating to flex for different sized groups. The Dividends Horizon® workstations include height-adjustable desks, which, along with Dividends Horizon tables and Remix® side chairs, can accommodate small meetings, while k. lounge benches offer more seating for larger work sessions. Even the CEO's office has a range of seating options for guests, who may sit on Saarinen Executive chairs or at a more intimate setup of Barcelona® chairs flanking a Saarinen side table.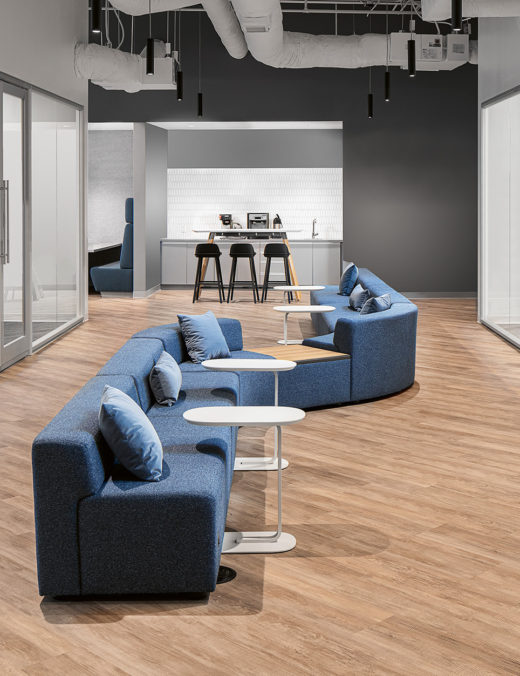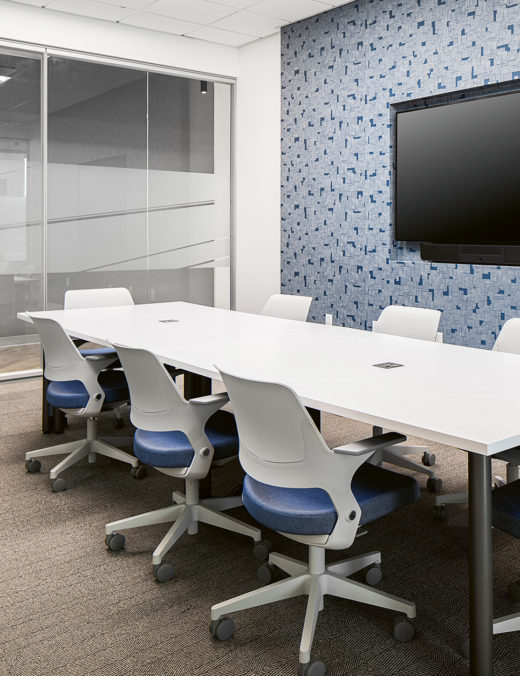 The open areas encourage casual and spontaneous collaboration, as well as offer places for solitary work away from desks. Clusters of MultiGeneration by Knoll® side chairs and Dividends Horizon tables sit between generously sized, wood laminate Dividends Horizon workstations to host impromptu meetings. But work doesn't happen just in and around workstations: Lounges and touchdown spots are scattered throughout the building. At an S-shaped k. lounge sofa, for instance, employees may work on their laptops on Muuto Relate side tables.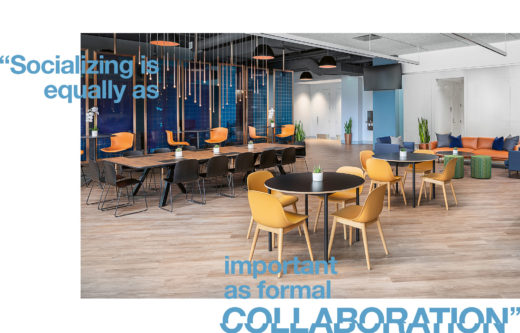 Socializing is equally as important as formal collaboration in an organization that fosters bonding among colleagues. A place where every style of socializing and sitting posture is supported, the café is one of the headquarters' most popular spaces. "Although it's one café," Knight says, "it's four different areas that people can all use separately." The space— decorated in blues, blacks, and pops of citrus—offers stools for those who prefer to work or read a book at a counter, while collections of bar-height stools and café tables are well-suited for pairs. For larger group chats, there are cafe tables and side chairs, a long Rockwell Unscripted® Library Table, and even a laid-back lounge with a large sofa, upholstered armchairs, and cylindrical poufs.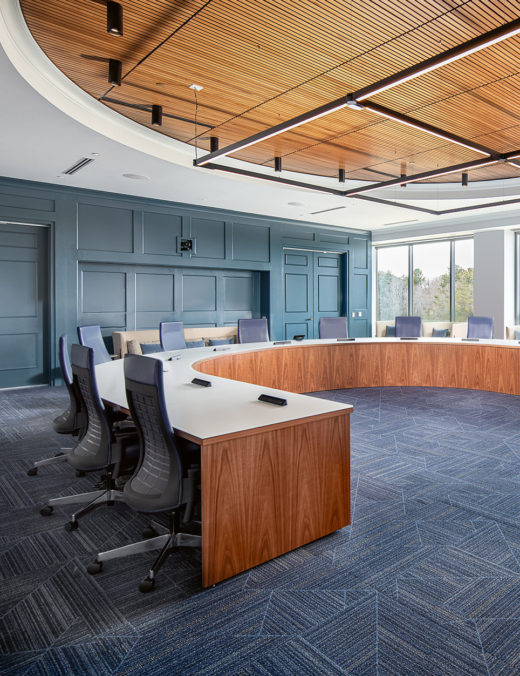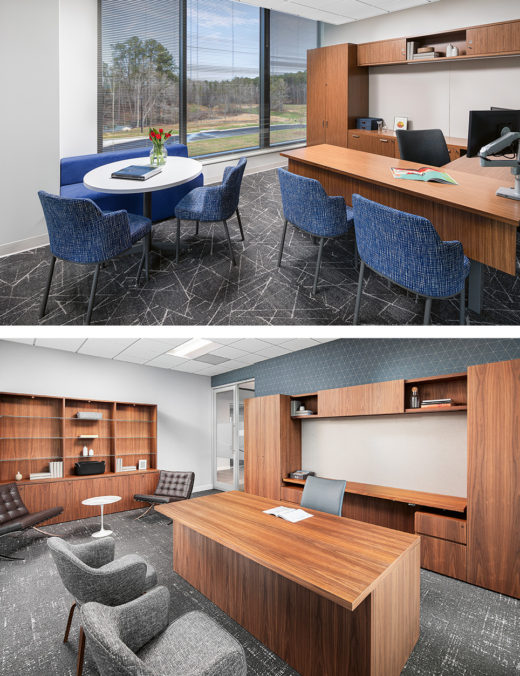 The team helped GreyStone achieve a more formal feel for the boardroom with a custom DatesWeiser U-shaped table, which allows all participants to see one another. Outside of the boardroom, the light-infused lounge space exudes a serene elegance while representing the brand through a palette of grays and blues against the warmer wood tones of the ceiling and floors. Avio™ sofas and KN01 swivel lounge chairs surround a large Florence Knoll low coffee table. Marble topped Saarinen side tables stand by for beverages.
Mixing different collections and brands to strike the aesthetic balance for GreyStone allowed Knoll "to really answer the client's needs holistically," Liezenga says. The client agrees: "I really felt like Knoll took care of us," says Knight. "We are conservative and had been in the old offices for a long time and we were trying to find a balance between that and this new, brighter, modern building. Knoll really did a great job of hearing what we were saying."
Photography by Adam Goldberg Photography
---
This story is from Knoll Works—our annual publication showcasing how our design and spatial planning approach helps create places people love to be.