Knoll Works 2022☰
SPACES
---
Collaborating
for a Cause
H3 Biomedicine's open office removes barriers to interaction
H3 Biomedicine, a biotech company based in Cambridge, Massachusetts, researches and develops oncology therapies with the potential to redefine cancer treatment. But for a forward-thinking organization, the first floor of its two-story office was decidedly retrograde. A large, unused reception desk was the first thing visitors saw, and the interior work areas were dark and segmented, preventing opportunities to collaborate freely.
Now, following a recent renovation by local architecture firm DiMella Shaffer, the primary floor of H3's 25,000-square-foot space reflects and reinforces its innovation culture. The new open plan offers plenty of gathering spots, including a breakroom, technology-enabled huddle rooms, and lounges. The designers removed structures from the windows to allow more natural light to enter the offices.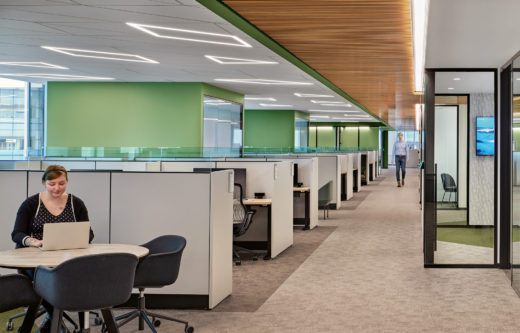 DiMella Shaffer designers engaged user groups across the organization, from HR to clinicians, to better understand individual and group needs. Then, working together with Knoll, they chose the furniture that best supported a diversity of working styles. "We really tried to develop many different kinds of areas of meeting and breakout," says Amanda Solinsky, associate architect at DiMella Shaffer. "Furniture has so much to do with the final feeling and movement and experiences, and in an open office plan, you have to rely heavily on the different character of the furniture to define some of those things." With solutions from workstations to lounge seating, Knoll proved the perfect partner.
Take the kitchen and café, the epicenter of H3 socializing one of the most popular amenities of the new space. Here, Knoll pieces support every kind of interaction, from standing chats to touchdowns and longer sit-downs. Muuto Fiber stools arranged around the kitchen's large central island allow for quick touchdowns. Longer conversations can take place in the cafe area at groups of Dividends Horizon tables and Spark® Series side chairs. Also in the cafe, upholstered one-seater sofas create a setting for more casual, intimate chats over coffee. "All different capacities exist in this space—whether you want to work quietly, have a discussion, or just kick back with your coffee and gather your head for 10 minutes before you start working," Solinsky says.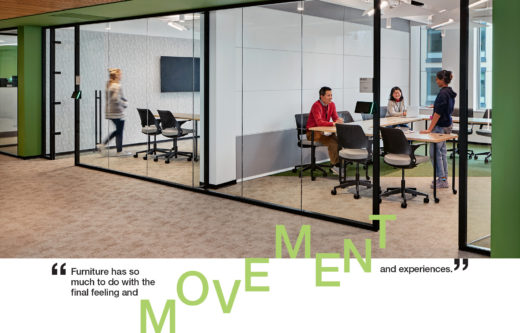 No matter how they like to work, each employee can find a suitable spot. The workstations are conducive to heads-down work, with seated privacy and ample credenza storage for personal items. When not in the lab or at their desks, staffers can bring their laptops to one of the small lounges strategically placed throughout the office. Those seeking a sense of privacy in the open plan, can rest their laptops on Relate Side tables while sitting on Muuto Outline Highback sofas, whose tall end panels provide a sense of enclosure.
The meeting rooms, behind floor-to-ceiling glass panels, are endlessly reconfigurable and able to flex with changing social-distancing requirements. "The install happened right at the beginning of the pandemic and has set the tone for what pandemic installs would look like," says Knoll Client Development Executive Kayleigh Fraser. In addition to being lightweight and movable, the streamlined appearance of Antenna® tables and Ollo® task chairs keep the focus squarely on the meeting participants.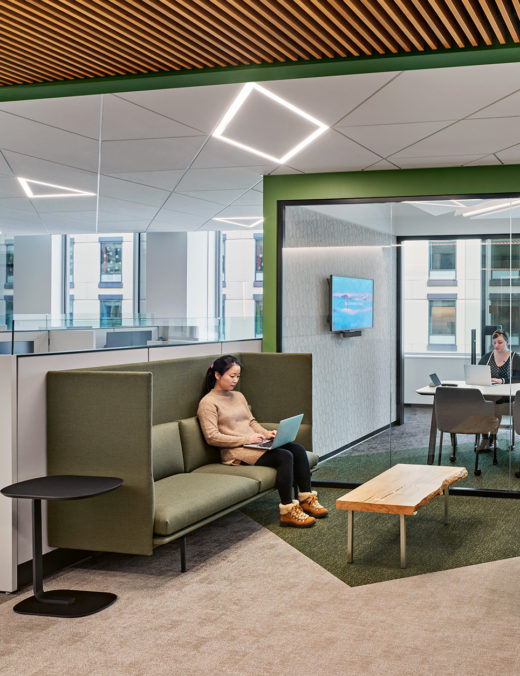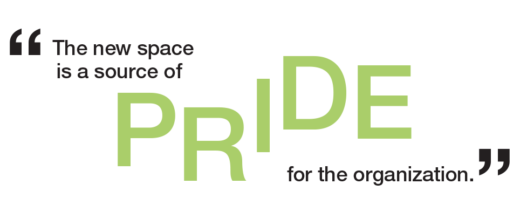 At H3, centering the office design on the people who use it also served to remove the barriers between them. "I think the new space is a source of pride for the organization," says Kate Ricciardi-Yuskaitis, H3's executive director of planning and operations. "People feel energized by it."
Photography © Robert Benson Photography
---
This story is from Knoll Works—our annual publication showcasing how our design and spatial planning approach helps create places people love to be.