Welcome to Knoll at Fulton Market. We are proud to debut our vision for a warm, elegant, and architectural workplace. You'll find new products and settings and a remastered approach to color, materials, and finishes, all designed to inspire new dialogue and ideas.
811 W. Fulton Market Chicago
Knoll at MillerKnoll Design Days 2023
Hospitality and Connection
Creative collaboration has been an integral part of the Knoll DNA since the start. In his first year as SVP of Design, Jonathan Olivares continues the practice with two new collaborators whose contributions were instrumental in reimagining the Fulton Market space.
Salem van der Swaagh
Colors, Materials, Finishes
The CMF palette at Fulton Market was selected by color and textile designer Salem van der Swaagh. Her study treats color as material, exploring a depth of options in monochromatic families—masterful curations of Knoll Textiles, veneers, laminates, leathers, paints, stones, and metals—to compose a neutral ground with confident punctuations of primary color.   
Conceptually, van der Swaagh's palette celebrates the idea of doing more with less. As all colors in the spectrum are rooted in three primary hues, exceptional possibilities come from well-applied fundamentals. This is a space for a designer's imagination. Says Olivares, "It is a materials library rich enough to be interpreted in as many ways as there are designers."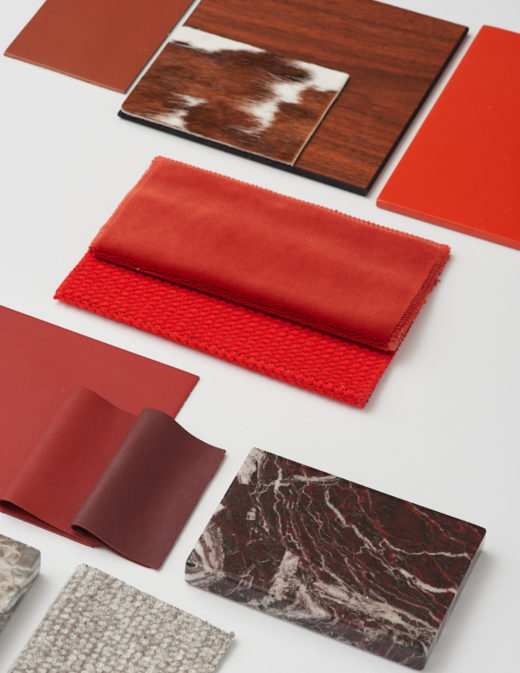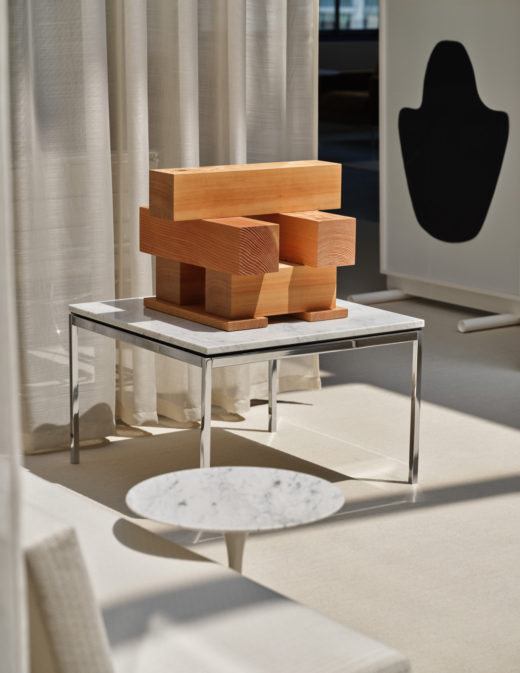 Jonathan Muecke
Artworks
The showroom features several artworks by Jonathan Muecke, a graduate of the Cranbrook Academy of Art where he was the Florence Knoll scholar. These two- and three-dimensional pieces create kinship between furniture, art, and architecture in the definition of showroom space, reflecting the spirit of the Harry Bertoia works commissioned by Florence Knoll for her early showrooms. 
The works on display, including Wood Stack and Flat Shape, are the first of many commissioned from Muecke for future Knoll showrooms. 
Floor 6
Hospitality
and Connection
A hospitality-oriented environment that revolves around colleagues, community, and conviviality sets the stage for a company culture that supports a broadened spectrum of individual needs. 
Connected Space
Translucent panels hang through the multi-level atrium, floor to ceiling, creating an experiential moment of connection. Here, newly reissued archival designs by Florence Knoll sit in conversation with a large-scale sculpture by Harry Bertoia and new commissions from Jonathan Muecke. 
Coming Soon: Florence Knoll Models 31 and 33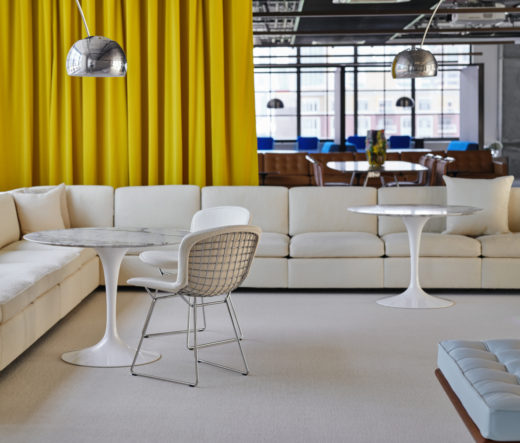 Pfister Sofa, Saarinen Lounge Height Tables (Coming Soon)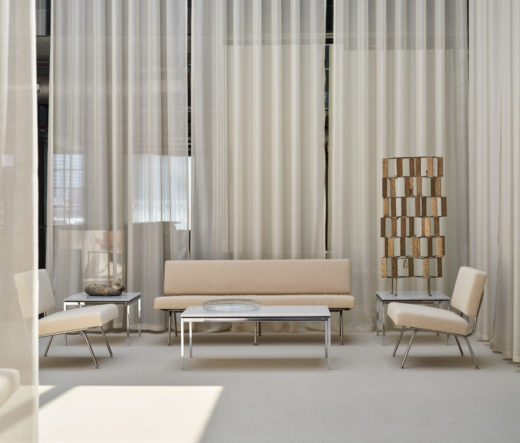 "When you walk in, you enter into hospitality—it's public, it's about getting a coffee, seeing your colleagues—and the deeper you go into the space, the more private it gets."
JONATHAN OLIVARES, SVP OF DESIGN
Café
Offering a variety of options to bring people together, the café is designed to progress from open lounge to semi-private booths—a response to the post-pandemic desire for gradual re-entry.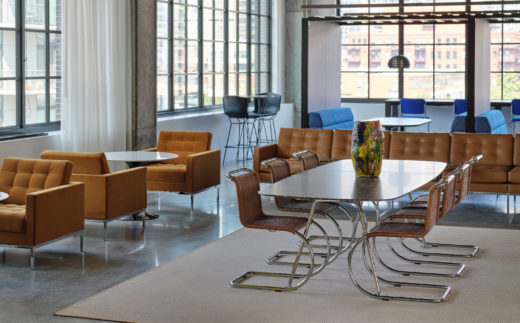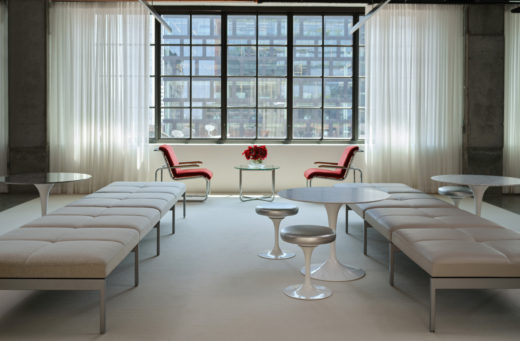 Antenna Benches and Saarinen Lounge Height Tables (Coming Soon), MB Lounge Chairs, Tulip Stools
Touch-down hospitality
A flexible touch-down area envisions casual gatherings and productivity. Powered benches, stools and lounge-height tables create an adaptable and spacious work/club feel.   
Materials library & workshop
The Knoll commitment to quality and selection in color, material, and finish is highlighted in two adjacent areas that function as a group gathering space and working materials library. An expanded sample wall runs alongside a large worktable, while Knoll Textiles holds the far corner of the floor with a workshop that takes advantage of generous natural lighting.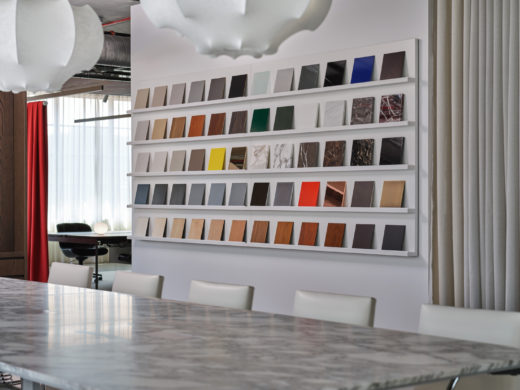 Work & meeting spaces
Conference spaces—typically located near the entry for client convenience—showcase the exceptional detail and workmanship of product and design.
Free-address workstations serve as hot-desking convenient to the adjacent lounge, material workshops, and private work rooms. They are quiet and architectural, a simplified configuration and palette that reflects the overall sophistication of the floor.   

Floor 7
Individual and
Team Work
A renewed mix of favorite Knoll workplace platforms builds a landscape designed to support the natural rhythm between team-oriented activities and focused work. 
Individual Spaces
Private offices and adjacent workstations demonstrate a new balance observed in floorplans, where perimeters are being transformed into amenity space, private offices are becoming more flexible, and an increasing percentage of employees at all levels are moving to the open plan. 
Here, a private office is outfitted in an executive palette of refined woods, configured to address individual needs while simultaneously supporting mentorship, one-on-one interaction, and teamwork.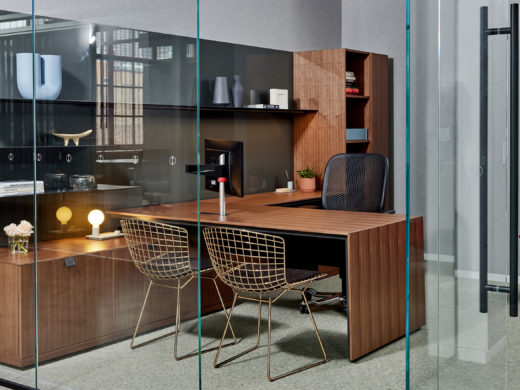 Coming Soon: Cove Collection by Knoll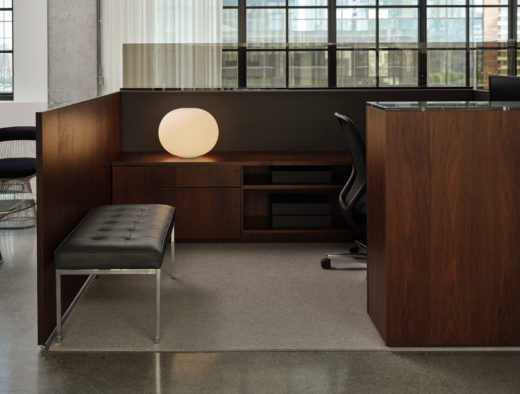 Touch-down work is enabled with a precise and architectural configuration of Dividends Horizon panels finished in a brushed aluminum laminate designed to break the association with cubicles.  
Height-adjustable tables hook directly into the panels for stability rather than relying on a large back foot—a contemporary rekindling of Eero Saarinen's desire to "clear up the slum of legs".  
An interior garden and individual lounge are an experiential response to a clear post-pandemic insight: people returning to the office crave the privacy and solitary escape to which they were accustomed at home. Here, a forest of ponytail palm trees rises over a series of Womb Chairs to provide those necessary moments of self-care.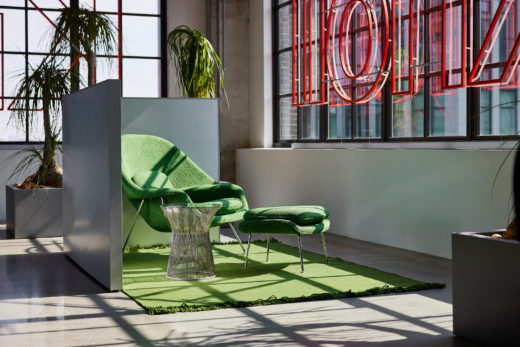 Team Spaces
Hybrid meetings in the open plan are enabled by a new mitered L-shape configuration of Dividends Horizon panels that creates a sheltered team space divided by Interpole-mounted screens. Conversations happen naturally in open plans; with technology designed in, we activate and engage a hybrid team.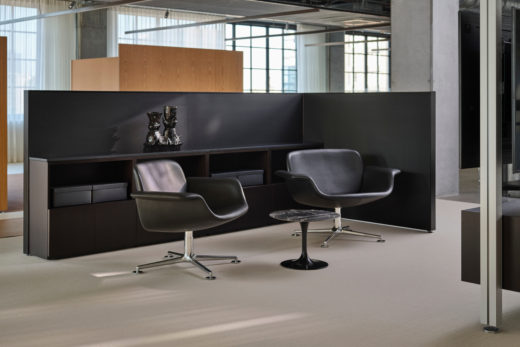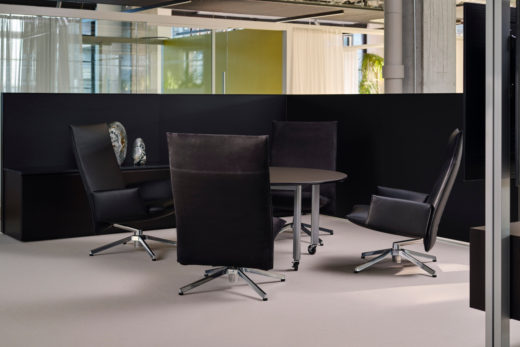 Rhythms of team focus and collaboration are supported with a 4-person workstation cluster of Dividends Horizon that sits in conversation with a small breakout space. Workstation elements are used architecturally, rising to different heights for layered interest.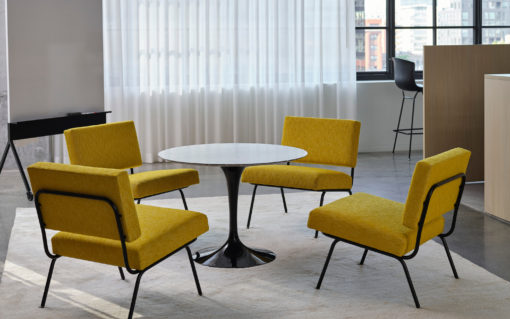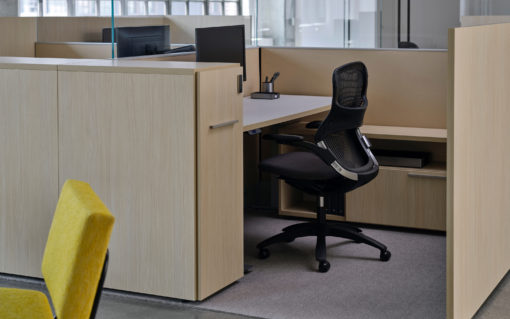 A semi-private team room takes shape with a creative application of Reff Profiles storage that uses it as architectural massing. A 4-person team can sit resident, or hybrid teams can book the space to maximize efficiency and collaboration together.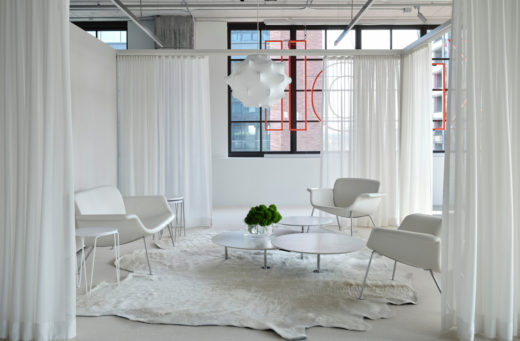 KN04 Lounge Chairs, Grasshopper Coffee Table, Florence Knoll Hairpin Tables, Rockwell Unscripted Creative Wall
Florence Knoll Credenza, Saarinen Dining Table - Oval, Tulip Chair - Armless, Rockwell Unscripted Creative Wall
An elegant duo of meeting spaces is made using the customizable levels of enclosure offered in Rockwell Unscripted Creative Wall. One half is a formal glass-walled meeting room designed for privacy with interior curtains, FilzFelt sound absorption, and video conferencing capability. 
The adjacent half is an open and informal space without technology. A Grasshopper table and KN04 lounge seating make a ready space for casual in-person meetings and dialogue. Together, the two rooms provide residential hospitality within the work-focused floor.