Knoll Works 2021☰
PROFILES
---
Moment
for Change
David Rockwell on Public Design and the Workplace
David Rockwell's design studio overlooks Union Square, an iconic New York landmark that still buzzes with activity of new work routines. The plaza is also emblematic of the city's dynamism: Its function and character change throughout the weeks and months, converting from a farmers market or communal gathering spot to a protest grounds or holiday market.
That transformative spirit—and the aspiration to transport people into another world by tapping their own imagination—carries through all of the designer's projects, and as much as New York has influenced him, he has shaped the urban landscape through everything from theaters and eateries to workplaces and schools. Over his groundbreaking career, the architect's eponymous firm has designed stage sets for Broadway, including Hairspray, Kinky Boots, and She Loves Me, for which he won a Tony. He also boasts over 250 restaurants, notably Nobu and Union Square Cafe, and 100 hotels, including Moxy and W.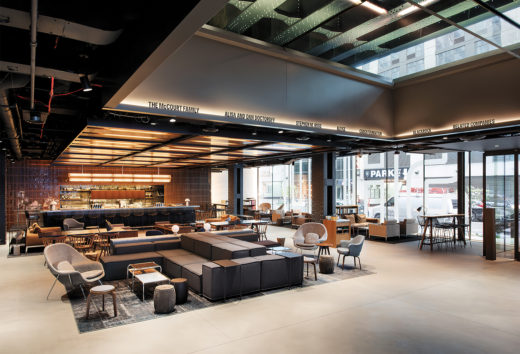 Working with Diller Scofidio + Renfro, Lead Architect, Rockwell Group, Collaborating Architect, designed The Shed, a groundbreaking New York City arts center dedicated to commissioning, producing, and presenting all types of performing arts, visual arts, and popular culture. Recently, Rockwell Group designed the "Waiting Room" for Amtrak and LIRR passengers on the concourse level at Moynihan Train Hall, which opened earlier this year and references the lost grandeur of the original Penn Station, demolished in 1963. In the reimagined space, a conversion of a former post office, Rockwell designed welcoming waiting areas reminiscent of the original station. Most recently, the studio, in partnership with NYC Hospitality Alliance, drew on its experience designing modular, flexible spaces to create the "DineOut Tool Kit," a plan for building outdoor dining spaces for restaurants continuing to operate during Covid-19. The kit—a set of plans available for free download—includes furniture, lighting and equipment which together create spaces that meet current health guidelines and make diners feel safe and comfortable.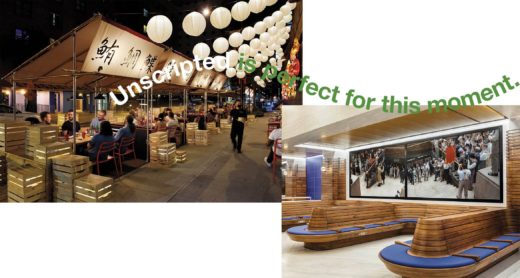 While Rockwell remains committed to New York, Covid-19 has sparked some necessary changes to the way he and his team work. When the pandemic hit, Rockwell Group, like most other workplaces, quickly pivoted to a work from home scenario. "Early on, we anticipated people returning to the office in a surge," Rockwell recalls. "However, based on what we later learned about Covid, it has been slow and controlled, with staff coming in for special collaborations and hybrid meetings."
Rockwell Group designers still take advantage of the firm's expansive research library, a flexible, open space where people can spread out and enjoy fresh ventilation from its many windows.

Even when it's safe to go back to work en masse, Rockwell predicts the office, at least in the short term, won't be a five-day-a-week destination but rather the site of occasional meetings and events. He notes, "Designers will be looking to create cohesive experiences that make working from home and working from the office feel more fluid." That includes thinking in a hospitality-minded way about people's fundamental needs for comfort, empathic design, key amenities and agile infrastructure.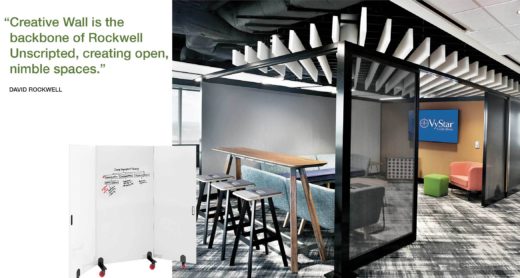 First launched by Knoll in 2017, the Rockwell Unscripted® collection anticipated the need for workplace flexibility, empowering people to transform their offices like a stage set. Freestanding walls provide partial privacy and quiet without a feeling of isolation; freestanding furniture, bleacher-like steps and other upholstered pieces can be easily reconfigured.
"Creative Wall is the backbone of Rockwell Unscripted, creating open, nimble spaces," says Rockwell. Creative Wall invites people to transform a space as they come together to think creatively. Inherently scalable, the freestanding walls and frames allow for a range of spaces, from one wall to a series of fluid zones. As needs change, the Creative Wall space can be refreshed with new furniture to bring a renewed sense of play and purpose. The new Unscripted Backdrop mobile markerboard, with multiple whiteboard surfaces and integrated storage, also facilitates teamwork, unfolding to instantly delineate a collaborative area.
With Rockwell Unscripted, organizations reassessing their workplaces as they move to a more flexible, hybrid arrangement have options for creating employee-centric spaces that encourage collaboration and flex to adjust to changing needs. "Unscripted is perfect for this moment," Rockwell says, "as it's mobility allows for more walls, pavilions, enclosures, semi-private breakout spaces, niches and divisions of space. It creates pockets where people can come together in a deliberate manner or work in a focused way."
Photography by Brigitte Lacombe, Sue Root Baker, Garrett Rowland
---
This story is from Knoll Works—our annual publication showcasing how our constellation of brands and planning capabilities create inspiring workspaces.