Knoll Works 2022☰
SPACES
---
The Power
of Collective Creativity
WPP unites its Chicago agencies under one roof
For an example of Florence Knoll's total design approach look no further than WPP's "vertical campus" in Chicago's Fulton Market. The modern mixed-use tower, designed by Gensler, responds to its surroundings with a kinetic wall that acts as a moving-art installation for engaging pedestrians while tastefully concealing indoor parking. Inside, WPP's HOK-designed offices bring the neighborhood's meatpacking history indoors, using textured metal walls and industrial lighting. Knoll's contribution: to consider the architecture, the spaces within it, and how each piece of furniture relates to the whole.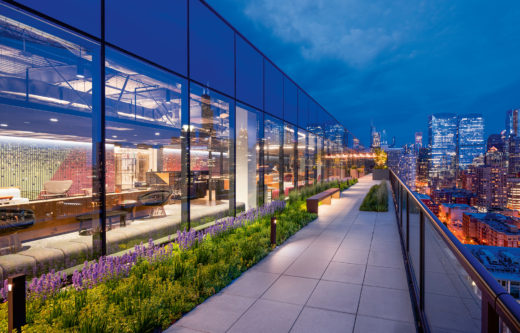 To kick off the design process, HOK and a steering committee representing all WPP's operating companies, from Ogilvy to Wunderman Thompson, made critical decisions for the 253,000-rentable-square-foot campus. The result is a master plan that leverages technology and space to avoid duplicating resources, includes ample room for collaboration and socializing, and prioritizes sustainability and employee well-being.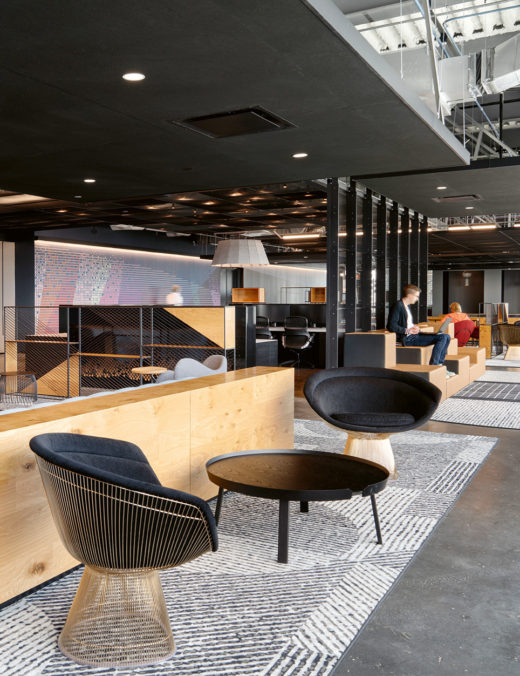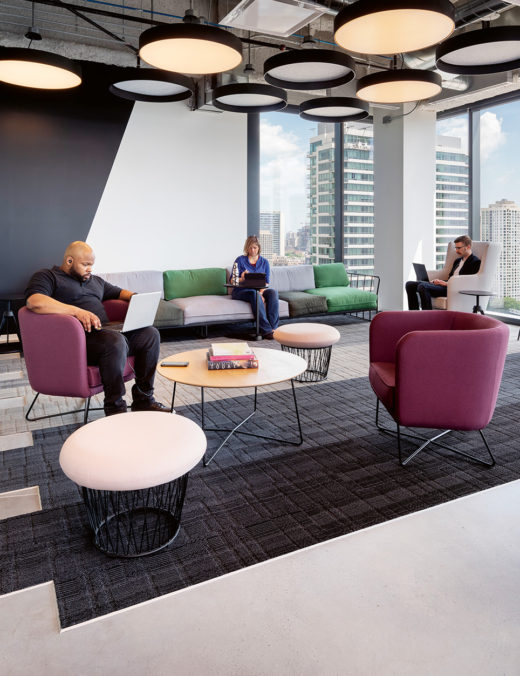 Knoll partnered closely with WPP's Procurement Facilities Director, HOK, and furniture dealer Evensonbest to achieve that comprehensive vision—on budget and on deadline. In addition to answering WPP's base needs—workstations, task chairs, and storage—Knoll offered alternate packages that included ancillary products such as lounge seating and work tables. Adding more products from Knoll helped WPP streamline logistics for both delivery and installation, which ensured that the project was completed on schedule. "We worked day to day with the design firm and the dealer Evensonbest to not only stay within budget but to achieve the design vision," says Knoll Client Development Executive Christine Chavez.
Every floor of WPP's new activity-based workplace emphasizes choice and autonomy. Three types of settings—workbenches, team tables, and individual workspaces—accommodate solo work, collaborative projects, group learning, and socializing. Workstations feature two fixed-height desk options providing different horizons for team members to sit or stand while working, with access to plenty of natural light. Because workstations make up 70 percent of workspaces, WPP employees are encouraged to collaborate in nontraditional ways, such as in the open spaces or in one of the many small meeting rooms on each floor. "There are many places where you can gather around and just start a conversation," says Shari Pansuti, WPP's Procurement Facilities Director for North America, "whether at a coffee bar, a pool table, or couches by the windows."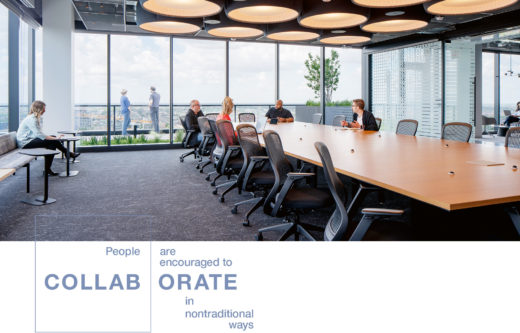 In the war for talent, amenities are critical to successful recruitment efforts—and WPP's new Chicago headquarters boasts a shared amenities floor with a lounge, presentation rooms, a production space with photo and sound recording studios, a wellness club, lockers, and a café. Sustainability was also a key factor throughout the design process, as WPP is committed to reaching net zero carbon emissions by 2025. The space is punctuated with greenery, including a 360-degree planted terrace that provides an oasis in the heart of Chicago. Through material and fixture selections, a diligent construction process, and energy modeling, the project achieved LEED Gold certification.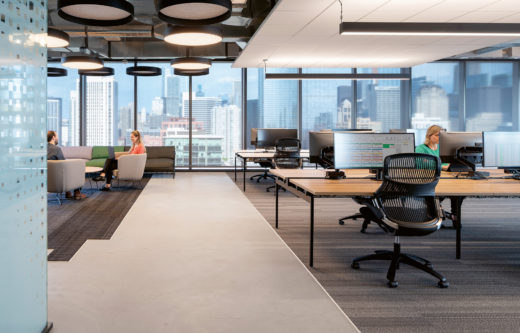 Once spread across seven buildings in Chicago, WPP's 38 agencies—spanning communications, experience, commerce, and technology disciplines—are now under one roof. Bringing them together not only allowed WPP to offer enhanced amenity offerings for current and future talent; it also allows for more crosspollination among agencies as they leverage the "power of creativity" to answer the needs of their clients.
Photography by Tom Rossiter Photography
---
This story is from Knoll Works—our annual publication showcasing how our design and spatial planning approach helps create places people love to be.