Knoll Works 2022☰
MILESTONES
---
Sounding Off for a Better Future
Knoll sponsors award-winning Pavilion of the African Diaspora at the 2021 London Design Biennale
"We cannot continue to speak about culture and design without recognizing how the African diaspora has contributed and influenced the creative industry. Black creativity has impacted every corner of the world," says Ini Archibong of his award-winning design for the Pavilion of the African Diaspora (PoAD) at the third London Design Biennale.
Archibong, the American-Nigerian designer who recently collaborated with Knoll—who sponsored this design for the Biennale—to create the Iquo Café Collection, was inspired by the wide-ranging impacts of the transatlantic slave trade on design, creating a tribute to and conversation space for the mass collective of Africans and those of African descent dispersed to countries worldwide, some by choice and others by force.
An architectural triptych, the pavilion unified ancestral journeys of past and present through structural representations of water and sound: the Shell, the Wave and the Sail.
'The Shell' was inspired by mythology of conches and cowries—once considered currencies—whose naturally emitting sounds were said to guide the soul homeward. Similarly, 'The Wave' was composed of concentrically spreading arcs and arches, representing the spreading of sound waves and symbolizing the power of voice through action.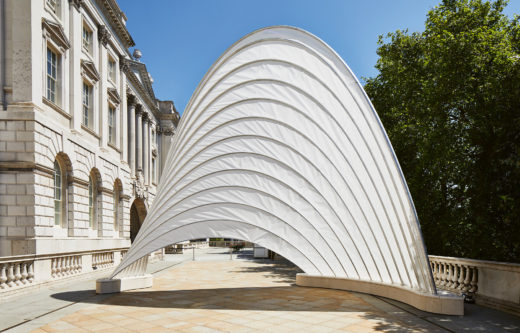 "After you've crossed this threshold and entered the space of the Sail, you see soundwaves overtaking the sail and carrying us into the future," says Archibong of the third structure, adding, "In a sense, it represents a mythological pass—and a through line—for the Black voices leading us into the future."
Serving as a symbolic gateway to the past, present and future, the Pavilion of the African Diaspora artfully ties together the biennale's theme of "resonance" as it represented the, "vibrations of Black voices as a rallying call to people far and wide," according to Archibong.
Photography by Uzo Oleh
---
This story is from Knoll Works—our annual publication showcasing how our design and spatial planning approach helps create places people love to be.