Knoll Works 2021☰
MILESTONES
---
Sustainable
Design
Knoll increases FSC® Mix claim
Enduring design, materials and quality are core to the Knoll perspective on sustainable design, and we are committed to continuous improvement of our sustainability practices. To that end, in 2020, we increased our Forest Stewardship Council® (FSC® C028824) mix claim for wood products from 70 percent to 90 percent. FSC®, a Knoll partner for over two decades, is a non-profit organization that promotes responsible forest management, working with companies to ensure they meet wood-related sustainability standards. These standards include sourcing wood that complies with all applicable regulations and adhering to workers' rights and employment conditions.
Commenting on the new FSC® claim, Benjamin Pardo, Knoll Design Director, said, "Our products should live with you and endure for years to come. As a design leader in workplace and residential wood products for over eighty years, our work maintaining a sustainably sourced supply chain—with manufacturing processes to match—helps to ensure that we can continue to provide our customers with beautiful wood furniture."

Yolanda Pagano, Knoll Director of Corporate Sustainability and Environment, explains the significance of third-party certifications like FSC®, "By obtaining third-party certifications, we are signaling to our customers that an independent entity has reviewed our supply chain process or tested our products to meet certain sustainability standards. This instills confidence so clients can pursue their own sustainability goals knowing that we are helping them along the way."
With FSC®, this means that ninety percent of Knoll FSC® wood comes from FSC-certified forests and ten percent comes from Controlled Wood sources. Controlled Wood is not necessarily FSC-certified but is approved for the FSC supply chain and must adhere to its standards.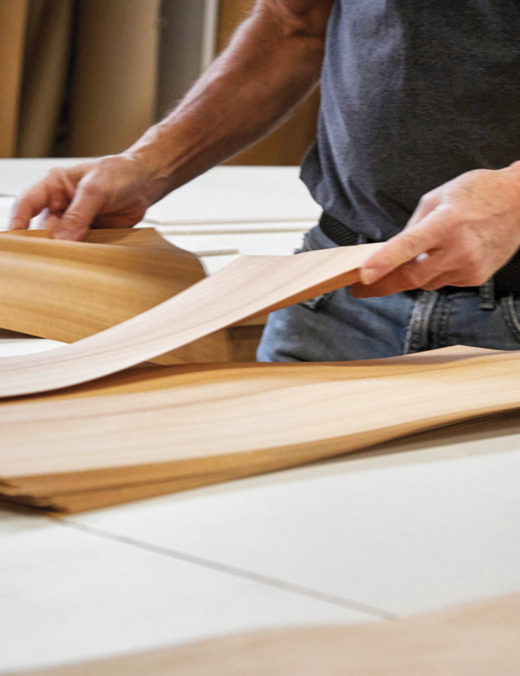 Customers can pursue their own sustainability goals knowing that Knoll is helping achieve those goals.
Knoll Planning Unit Founder, Florence Knoll, recognized the timelessness and understated sophistication of wood in her landmark designs that reshaped the work styles of businesses and educational institutions. Over the years, we have expanded our natural wood offerings to include Techwood veneers and have invested in manufacturing technology that produces a complete range of open and closed pore finishes to client-specified gloss levels. Knoll Office wood systems, conference room furniture and case goods are manufactured at facilities in Buffalo, New York, and Toronto, Canada.

Reporting on Our Track Record
In 2020, Knoll published a Sustainability Report, which looks back at our recent sustainability efforts, providing transparency on our performance and aims for the future. Prepared in accordance with the Global Reporting Initiatives (GRI), the Report offers a holistic view about our environmental, social and governance (ESG) commitments; it covers the environmental impact of our operations in North America as well as related community impact initiatives.
Commenting on the annual approach, Pagano notes, "Not only are we reporting on environmental, health and safety and how it relates to sustainability, but we are also highlighting social responsibility issues such as supplier mandates, diversity and inclusion, and employee engagement, to name a few, that are fundamental to being a company that cares about the environment and the communities where we work and live."
For more on our sustainability initiatives, visit knoll.com/environment.
---
This story is from Knoll Works—our annual publication showcasing how our constellation of brands and planning capabilities create inspiring workspaces.