LIVING WITH
How Babba Rivera Created a Home Where Her Budding Business and Family Can Thrive
With business expertise that transcends fashion, tech and clean beauty, entrepreneur Babba Rivera launched her company, Ceremonia, to pave the way for greater representation of her Latinx heritage with her growing team. At the same time, she balances motherhood and entrepreneurship with attention and poise in her Tuxedo Park home with her husband, precious daughter Alma and petite Boston Terrier Blu. Here's how she designs to get it done.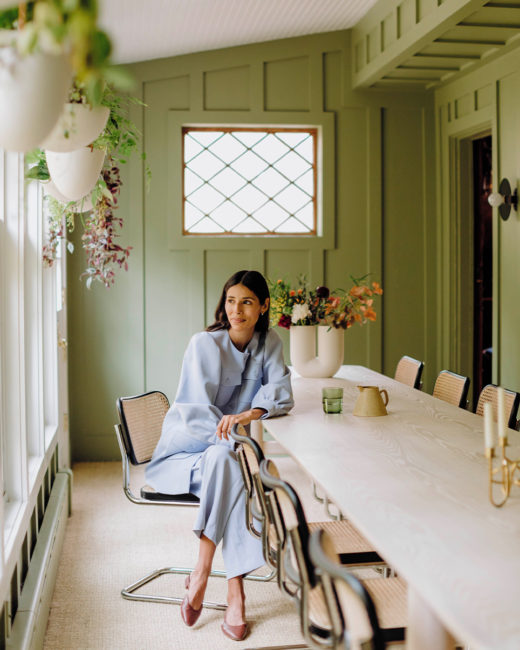 Tell us a little bit about yourself and your background.
I'm a Swedish Latina living in New York. I grew up in the south of Sweden in a typical immigrant household where we had salsa on repeat blasting out of the speaker and unannounced guests and family members constantly stopping by. 
Today, I split my time between our Brooklyn apartment and our house here in Tuxedo Park, which has more or less become our main residence since the pandemic. I'm also the mother of a beautiful baby girl, Alma Rivera, who I had the pleasure of welcoming to this world in the strange year that was 2020. Around the same time as welcoming our baby, I also launched my own beauty company. I'm the founder and CEO of clean haircare brand Ceremonia, inspired by my own Latinx heritage and the rituals I grew up with. 
What inspired you to create Ceremonia? What are your brand values?
Growing up as a Latin American immigrant in a homogenous country like Sweden, I never found myself represented in media and the products I consumed—especially in beauty. In the US, I witnessed a void of Latinx representation in almost every aspect of my life: professionally; in the media; the brands I consumed; and not to mention role models in entrepreneurship. I began to feel a strong sense of responsibility to propel change.
Ceremonia was born out of the desire to celebrate the richness of Latin culture while highlighting the next generation of Latinx. Inspired by the rituals I grew up with, powered by the superfruits and plants native to the Latin American region, Ceremonia is here to push boundaries for what clean hair care can be—while celebrating and creating representation of a culture that is oftentimes overlooked in the beauty space.
I also hope to inspire and pave the way for more Latinx founders and businesses to follow suit and take up space on the world stage.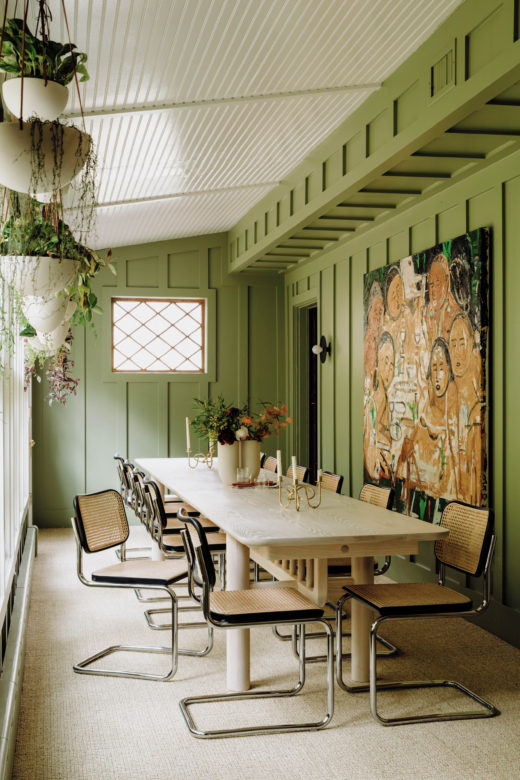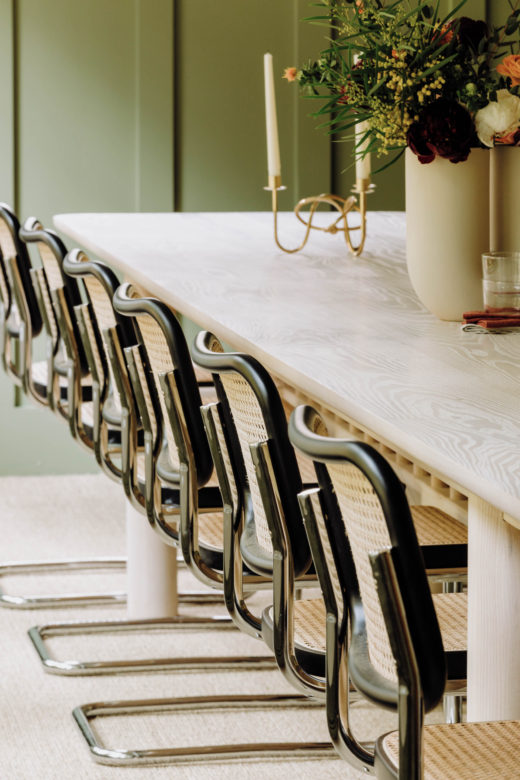 As an accomplished entrepreneur who is able to merge creativity and business acumen, what is a career/business lesson you'd like to pass on?
To learn to enjoy the process and not obsess too much over the so-called end destination. Too often I meet founders who are so focused on the destination that they forget to enjoy the ride along the way, which often results in you never even reaching the destination because you burn out along the way. 
What are you most proud of in launching your business?
Our team. They are truly the essence of the business and what motivates me every day to do my best work, and ultimately the reason I enjoy the journey so much. I am proud of the culture we've built and immensely proud of every single person on the team. Everyone brings their own unique perspective and set of skills, and together we make magic.
The chairs are so comfortable that I sometimes use the dining room as a co-working area for team offsites.
How did you set out designing your space? 
I love to host, which informed a lot of our decisions when designing the space. For example, we wanted to optimize for guest rooms and have done so to the point where our own baby actually doesn't even have her own room yet, because we prioritized two guest rooms and a home office with a pullout couch. Both my husband and I are big on hosting, whether it's friends or family, or work teams, we love to be able to bring people together in our own home. 
In addition to optimizing for guest rooms, we also sought out to create dedicated hosting rooms for dinner parties. Our dining room is a dream come true for us as we can finally host about 20 people comfortably around one big table! We also designed a 'cigar room' with an open marble fireplace and vinyls for those post-dinner whiskey moments.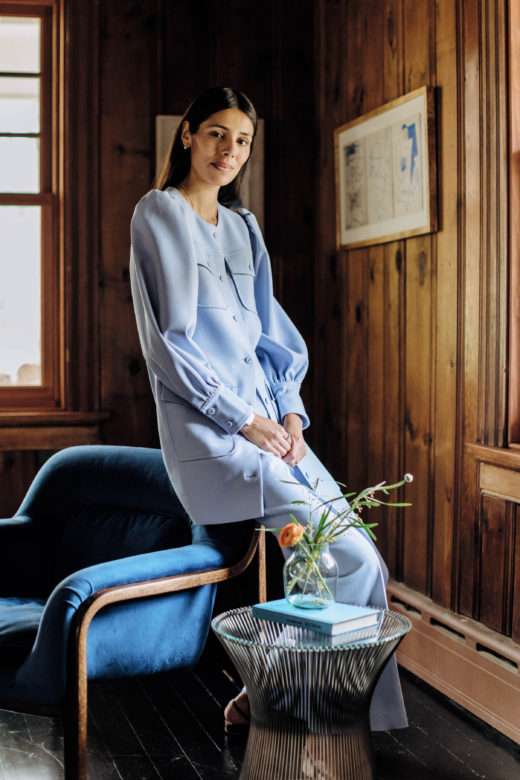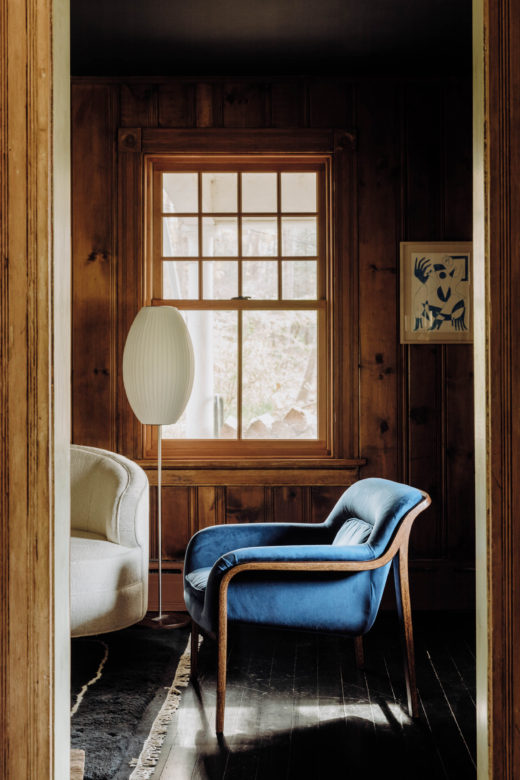 How does your dining space cater to bringing together your growing team as well as hosting among friends?
What's so nice about the dining room is that it's equally nice daytime as evening time, and the chairs are so comfortable that I sometimes use the room as a co-working area for team offsites. I've hosted our PR agency, my investors and my leadership team for workshops and dinner parties, and I even hosted our external community of Ceremonia for a friendsgiving brunch. The space is airy yet tight which I like, meaning the green walls and natural carpet bring a sense of airiness, but the table is quite narrow which gives you a feeling of closeness when gathering in there. I don't like when tables are so big that you end up only able to talk to the person right next to you–an ideal dinner party should allow for group conversations to flow and for that I love a more narrow table design to bring people closer together.
How has your Swedish and Latinx heritage influenced your home design?
We love to bring a mix of our two cultures. Since both my husband and I grew up in Scandinavia, a lot of our design references are naturally going to lean more Scandinavian, however, when it comes to art and other details I love to incorporate vibrant elements of the Latin culture. We are always on the lookout for emerging Latinx artists to support, and a recent addition to the dining room is a large art piece from Korean-Mexican artist Monica Kim Garza which added a nice contrast to the room.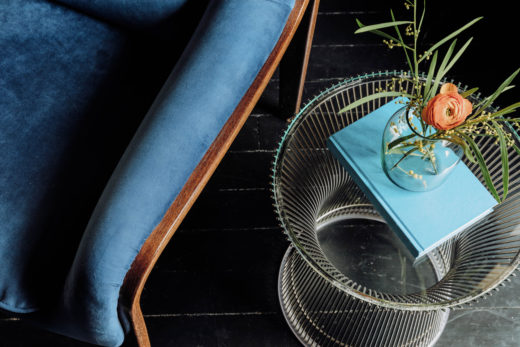 How did you come about finding the archival Stephens Lounge Chair? What struck you about it?
I feel like my husband and I spent every bedtime moment during Covid on various vintage furniture sites in an effort to decorate our new house in Tuxedo Park, which we bought during the pandemic while I was highly pregnant. We wanted to add texture to the cigar room and fill it with furniture to make it really cozy. We were so pleasantly surprised when we found the Stephens Lounge Chairs through a vintage dealer on Etsy with the perfect velvet blue finish, and the fact that they fit the space so perfectly from a sizing perspective too was just too good to be true! It was important to us to obtain a mix between old and new, and these chairs added the final touch to the cigar room.
What is the history of Tuxedo Park? How is it reflected in your home?
Tuxedo Park was founded in the 1880s by the tobacco baron Pierre Lorillard IV as a hunting and fishing playground for his friends. Our house was actually the first one in the park, initially built as a hunting lodge and not a house.  The house has since been relocated within the park and built out a few times.
This is the location where the term "tuxedo" was coined. Pierre Lorillard and his friends brought the formalwear back to the US from their trips to Europe, and people later on started referring to the clothing as Tuxedos as it was exclusively worn by the people in Tuxedo Park.
It is so fun to look at all the unique houses here and you can truly feel the history just by walking around here. You'll see a lot of stone walls here, and this is something we have kept in our house: from a big stone mural as a backdrop to our pool in the backyard, to the stone fences wrapping the house, not to mention the stone floor in parts of the home inside.
Photography by Max Burkhalter