LIVING WITH
Design Values Take Center Stage in Cathy Bailey and Robin Petravic's Home
Cathy Bailey and Robin Petravic understand design values. The couple treasures every era, be it the Victorian details of their Saulsalito home or an iconic Bauhaus chair. They collect objects, but only acquire the ones that they truly love. And, most importantly of all, they strive to understand every aspect of design through the lens of social and environmental impact, leading them to take over beloved pottery studio Heath Ceramics in 2003. 

Founded by Edith Heath, who was coincidentally born on the same day as fellow female design powerhouse Florence Knoll, the business has become emblematic of a certain California living—easygoing creativity, splashes of color, mid-century forms. Here's how the couple approaches their home and work life.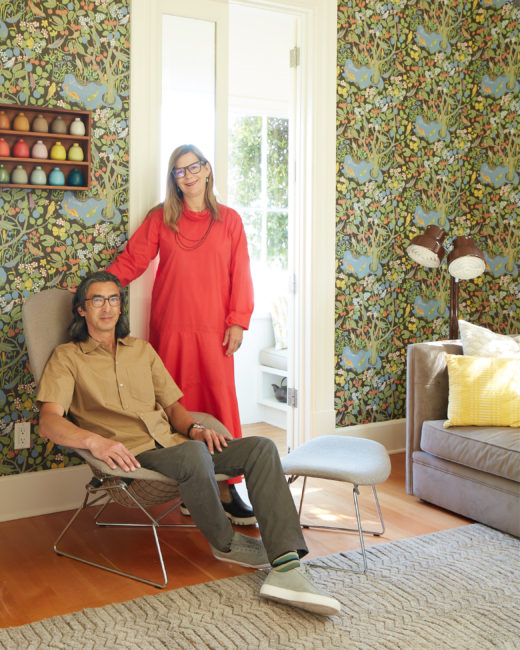 Tell us about your home. What are your favorite features?
Built in 1896, we love preserving and resurrecting elements that we appreciate from different eras. Our 1948 Chambers stove and 1960s Firehood fireplace are two features that we added and really make the house our home. The colors and character of the house were built around those objects, inspiring our tile designs in the kitchen and dining area, which are the focal points of the house.
How did you meet?
Robin and I both have a background in design, and we met through our work. I had a design consultancy with projects that needed mechanical engineering and technical design. In searching for the perfect work partners, we each found life partners.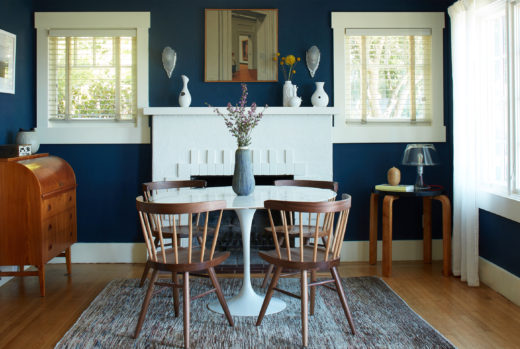 How did you become involved with Heath Ceramics?
After a few years of working on design projects together, we felt our work was not really aligned with our values. Simply being involved in design and engineering was not enough. We wanted to work on projects where the making was closely tied to the design, to understand what it takes to make products with our social and environmental impact in mind. The jobs, the materials, the selling—we wanted everything to align with what we thought was important.  
We were excited about a small/medium scale company where everything from admin to manufacturing was under one roof, making it easier to constantly evolve our vision and improve upon the impact of the work.
What are your tips for styling a table scape?
Envision the whole color and material palette. Take little swatches of each element and see if they look beautiful together. Create the mood that you would like your environment and meal to have. Consider color, contrast, and texture. The lives of our dishes on the table are their shining moment and they need to create just the right atmosphere, the color and feel of the glaze is so important.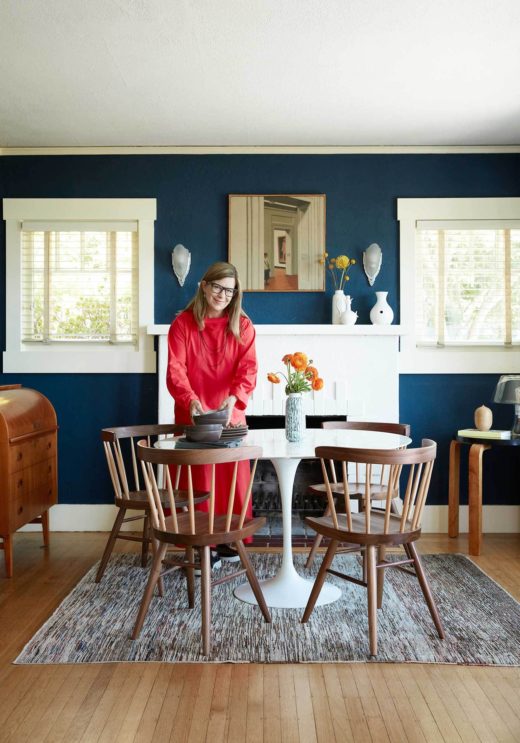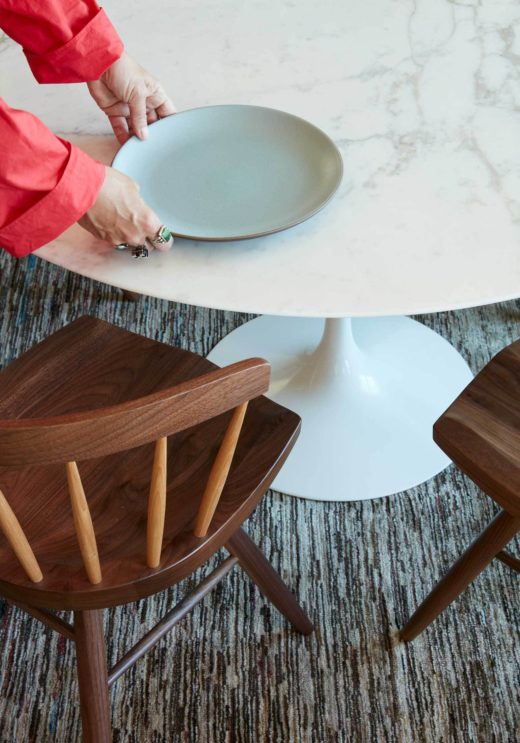 What makes a great lounge chair?
A great lounge chair allows you to sink in and stay for awhile. For me, it's also important that there's room to reposition yourself, tuck your feet in or stretch out and get comfortable with a book or laptop. The Womb chair is perfection for my lounging style! The width of the chair and the way the arms branch out to hold books or a blanket make it wonderful to spend time in.
What's your favorite memory at home?
A small boy and two gigantic dogs running around our dining table in our very small dining room.
There's never a shortage of ambitious projects with the goal of improving the sustainability and function of what surrounds us.
How did you set out designing your space?
First, we added a layer of renovation and preservation in the systems and structure. We wanted to preserve the original concept and feel of the home, so most rooms are very small. I added built-in furnishings to make the space more purposeful and highly functional. I wanted every room and every corner to be an intimate and engaging experience.
Much of the home inspires itself. Additions to the house have been inspired by the past, like Victorian era moldings and wide plank flooring that match original details. The next layer of inspiration came from functional objects like the fireplace and stove. These drive the character—and colors. We always try to reuse, reclaim or use salvaged materials.
We love objects, especially those from people and places we know and want to remember. This can lead to too much clutter, which can make you feel overwhelmed when you're in a space. I'm always trying to follow my advice of acquiring less things, and only things that I really love. I don't want anything I've purchased to make its way to the landfill.