Palettes
---
Amagansett House
The ideal Summer home - whether you are fleeing a bustling city or a quieter locale - must be equally as relaxing on the inside as it is active on the outside. Nestled on a tree-lined block in Amagansett, Timothy Brown Studio designs an East Hampton home that takes this notion to heart.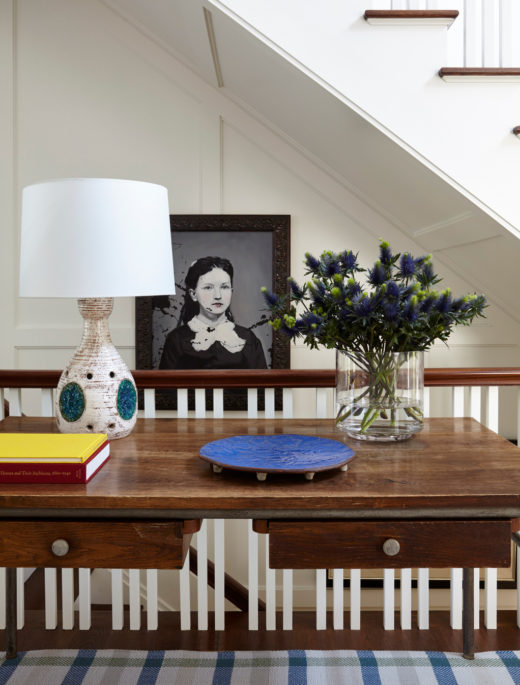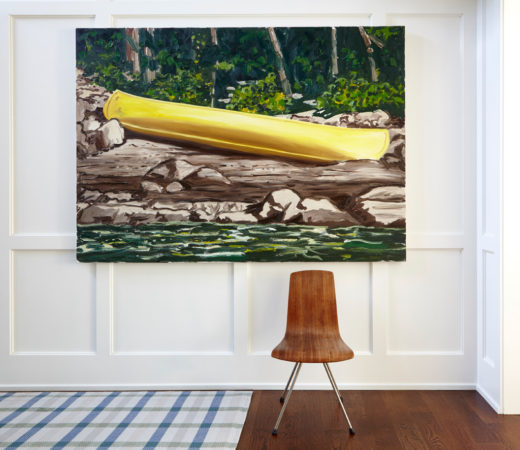 The Amagansett House marries modern classics, charismatic antiques and contemporary art to create a space that is both elevated and convivial. The entryway, adorned with a deeply hued purple door and a traditional plaid runner, sets the tone for the entire home. In a lively juxtaposition, an antique mid-century modern console made from wood and tubular steel sits among cutting-edge contemporary artworks, welcoming guests into this bright home.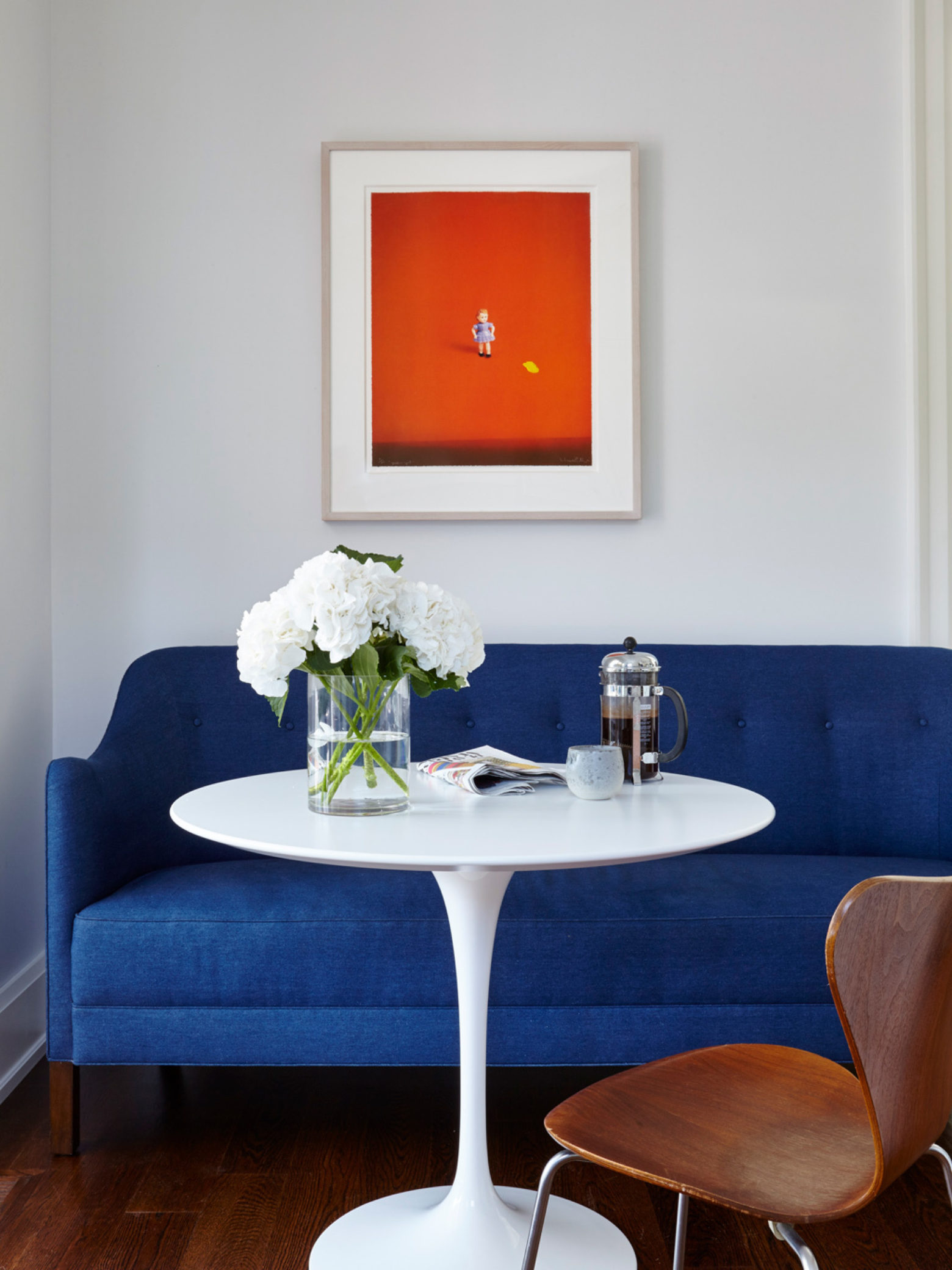 In an informal, café-style breakfast nook, opposites attract in a space that is wholly modern. A conceptual, vibrant orange work of art borders a vivid, lapis-hued Danish sofa. Among these eclectic details, a small round Saarinen Pedestal Table enlists the space with a sense of balance and visual purity through its white laminate composition and streamlined silhouette. In another nod to the modernist heritage in a contemporary context, a bentwood stacking chair acts as the perfect seat to swing over, pour a cup of coffee and read a quality book in peace.
The Amagansett House's emphasis on tranquility existing in tandem with an eclectic design philosophy is best exemplified in the master bedroom. A soothing, more pared back color story – varied hues of lavender and dove grey – makes the space nothing short of a restful oasis within the home itself. An Eero Saarinen Womb Chair acts as the utmost spot for relaxation within the entire home, faithfully evoking the "basket of pillows" level of comfort true to Florence Knoll's original request.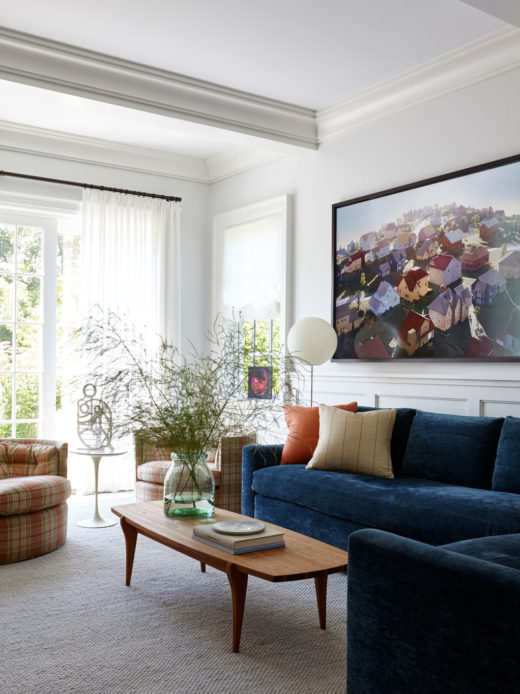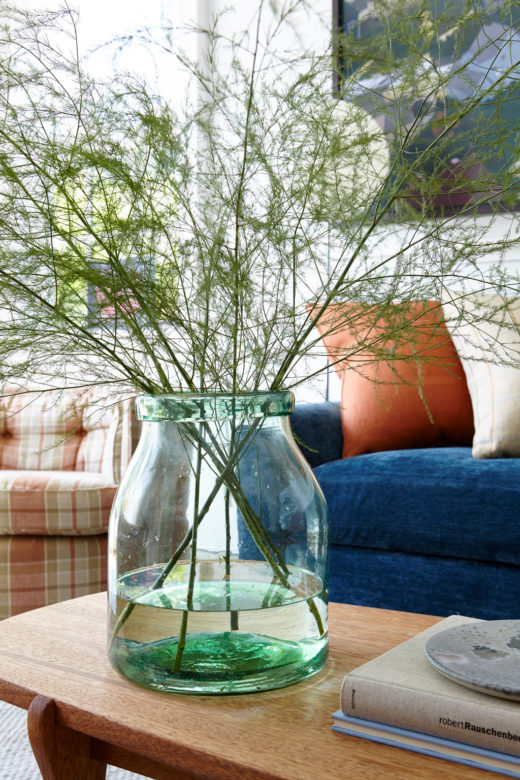 In the sitting room, floor-to-ceiling windows drown the space natural light, highlighting the inherent hospitable elements within the home. The space – perfect for meeting with dear friends for a drink or playing board games as a family – is a lesson in texture and pattern, employing a handwoven rug and velvet and plaid upholsteries. An additional Saarinen Pedestal Side Table takes the meaning of its name quite literally, propping up a clean, linear white sculpture that highlights the sculpturalism of Saarinen's work itself, almost blending together as a single figure.