Knoll Works 2022☰
SPACES
---
Insuring
Wellness
Delta Dental puts its people–and their health–first
For 25 years, the nonprofit arm of insurance company Delta Dental of Colorado was scattered across three noncontiguous floors, presenting a formidable challenge to employee collaboration and workplace culture. Every level, with its own breakroom, operated independently of the others, and there was no central hub to attract people from all departments. With a move to Denver from its old space in Centennial, Colorado, Delta Dental's foundation was able to bring its nearly 200 nonprofit employees onto two connected floors designed to prioritize wellness for current and future talent.
The project, designed by global firm Stantec, officially kicked off at the height of the pandemic in March 2020, prompting a shift in how Knoll, Stantec, and the client collaborated. All furniture design choices, including layouts as well as product and finish selections, took place virtually. A process borne of necessity soon proved a boon: Without having to travel for face-to-face meetings, more stakeholders could take part in decision making.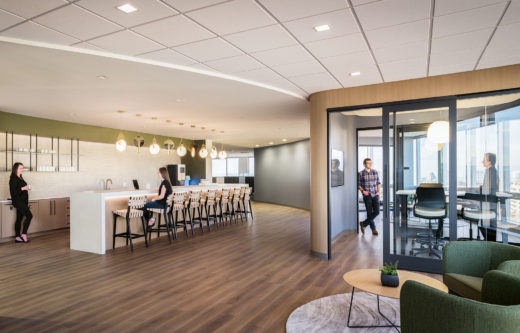 During the client interview process, Stantec and Knoll discovered that employees enjoyed collaborating with one another in a more traditional way than through spontaneous collisions popularized by tech startups. With that in mind, the designers created a variety of enclosed meeting rooms— including 28 huddle and 14 focus rooms—and centered the project around large gathering spots.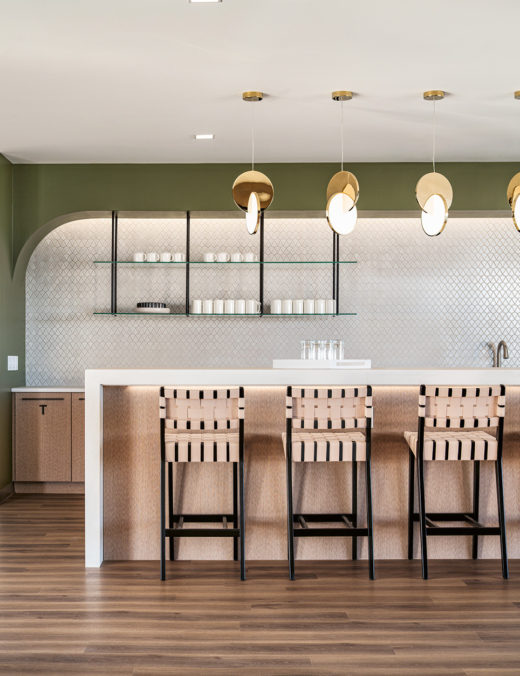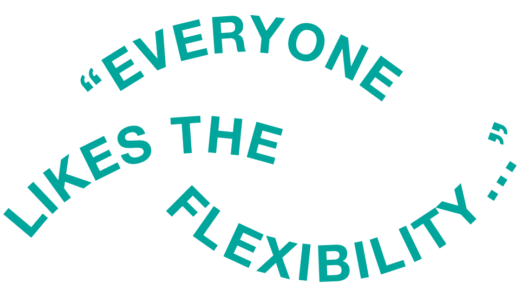 The main socializing areas are two cafés connected by a feature stairway. The larger one, on the lower floor, has seating arrangements to match every purpose and posture. The bar is a touchdown area with low-back Muuto Fiber stools. Banquette seating and café-style tables surrounded by high-back Muuto Fiber chairs support longer sits. The smaller café has two seating options: bar height Risom stools along a communal counter, and a small lounge setup of Rockwell Unscripted® Club chairs and a Rockwell Unscripted Occasional table, offering a quiet spot to work or have a private chat away from the kitchen bustle. In both cafés and throughout the space, the designers brought Delta's slogan, "A Smile Around Every Corner," to life through curved surfaces and rounded edges.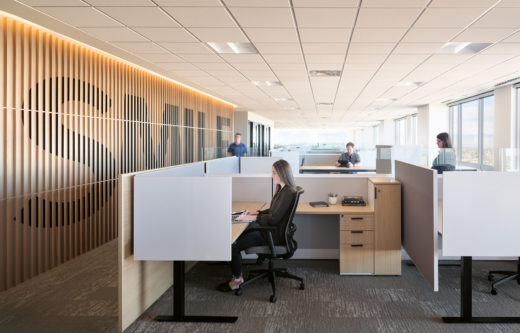 Already top-of-mind, employee wellness grew in importance during Covid-19 lockdowns. The private offices— situated along the windows in the former space—were moved to the core, giving communal areas access to natural light. A living wall and planters bring the outdoors in, in addition to providing pops of color. To further promote employee wellbeing, a needlepoint bipolar ionization system was installed in the existing HVAC to cut 97 percent of molds, viruses, and allergens. "I would say that our office now is very endemic ready," says Andrea Miller, the foundation's director of social responsibility, who oversaw change management for the project.
The designers took great care to select low/no- VOC-emitting finishes and sustainably-harvested woods, making Knoll's responsibly sourced materials a perfect fit. In the open plan areas, each generously-sized Dividends Horizon workstation comes equipped with a standing desk. "Everybody likes the flexibility of sit-to-stand, especially our call center, who are in their cubicles more throughout their day than some of us who get to walk around and go to meeting spaces."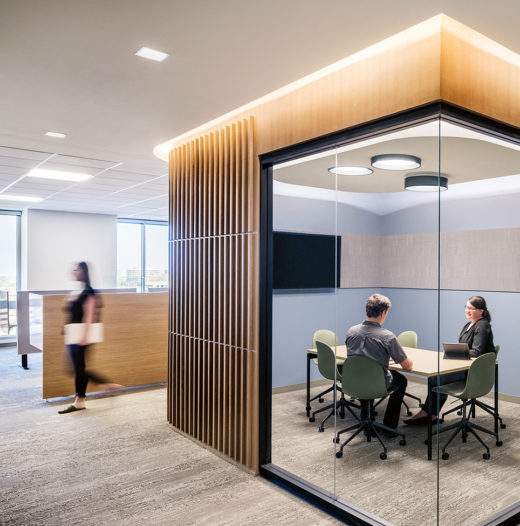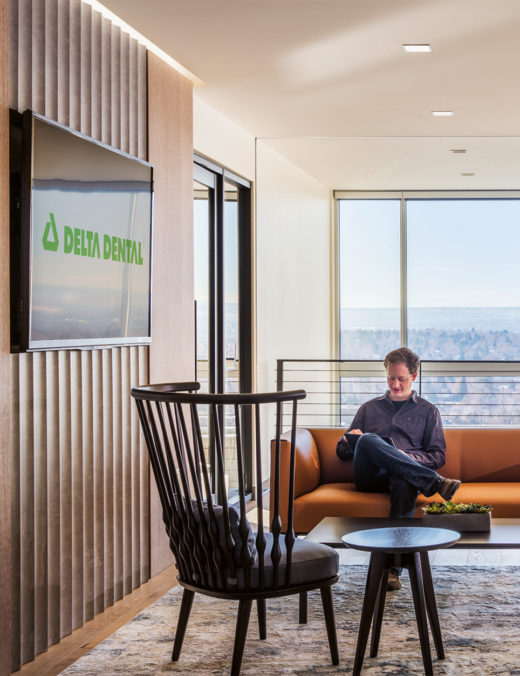 Throughout the design process, employees were invited to provide feedback to ensure that people were aligned with the overall vision. "When that feedback came in," Miller says, "Knoll went, 'OK, we hear you. Here are some ideas.' And they always hit the mark—everything was in line with our thoughts, because they had listened, and I really appreciated that."
Even though Delta has reopened with a hybrid model, the driver behind the space remains the same: To bring people together. "The CEO running into a claims specialist never happened in the other space," Miller says, "and I'm hoping it does, even with a hybrid office."
Photography by David Lauer Photography
---
This story is from Knoll Works—our annual publication showcasing how our design and spatial planning approach helps create places people love to be.