Introducing
Knoll Design Days
The next destination for workplace planning and design inspiration.

June 10–12
811 W. Fulton Market
Chicago
Knoll Design Days

June 10-12
We are moving. Knoll is relocating its Chicago Showroom from the Merchandise Mart to a new space down the street at 811 Fulton Market. Join us there for Knoll Design Days, a three-day immersive experience. We will debut products, host engaging programs and inspire you with a new view of Chicago.
Design Days will bring together products from across the Knoll constellation of brands – Knoll Office, KnollStudio, DatesWeiser, Spinneybeck | FilzFelt, KnollTextiles and Muuto – to create eclectic and exciting solutions for working and living.

One floor of the space will be Muuto's U.S. flagship location, a dedicated home for the brand's award-winning products and recent designs, paired seamlessly with Knoll products. Together, Knoll and Muuto bring elements of the home to the Modern workplace.
Drop By
Come see the space, explore new products and enjoy Fulton Market.


---
Monday, June 10
9am–5pm
Tuesday, June 11
9am-5pm
Wednesday, June 12
9am-5pm
---
Also Visit
Masters of Modern: Bauhaus Masters & Shu
The Farnsworth House
May 20th – July 21st
Learn More
Florence Knoll Women in Design Dialogues
Exciting discussions between leaders of the design community. Open to public, RSVP required.
Can't make it? All discussions will be streamed on knoll.com
---
Monday, June 10

Channeling Total Design 12pm. Rosé and Lunch Served
Zoe Ryan, Curator, Architecture and Design, Art Institute of Chicago
Dorothy Cosonas, KnollTextiles Creative Director
Maria Cornejo, Designer
From Yarn Bombing to Total Design of Place 2pm. Coffee and Cakes Served
Debbie Millman, Educator and Design Matters Podcaster
Magda Sayeg, Artist
Tuesday, June 11
Intersection: Digital Distraction / Digital Workplace 12pm. Rosé and Lunch Served
Heidi Mitchell, Design Writer
Patrick Larvie, Google/REWS, Workplace User Experience
Verda Alexander, Co-founder, o+a
Tracy Wymer, Knoll Workplace Strategy
ANEW 10 Years Comes Full Circle, by Design 2pm. Coffee and Cakes Served
Rose Tourje, Founder, ANEW
Rumi Walsh, Manager, Real Estate, Facilities, and Administration for Mazda
Margaret DiLorenzo, Project Manager, Retail Team, CBRE for Bank of America

A New Home for Knoll in Chicago
We're eager to welcome the design community, our clients and the public to Fulton Market beyond Design Days. Our new showroom, designed in collaboration with Gensler, will offer a transformative presentation of how we work and live, demonstrating ideas and products to shape environments that promote hospitality, value social experience, and support work.

Honoring Florence Knoll's commitment to the "total design" approach, all three floors of the new space are designed to inspire our commercial, education, healthcare, hospitality and public sector clients to plan environments that adapt to evolving workstyles.
Welcome to a the next destination for workplace planning and design inspiration.
Welcome To Fulton Market
Chicago's Fulton Market District, with its vibrant architecture and streetscapes, is an ideal setting for Knoll to excite the next generation of architects, designers and clients.

Knoll will be providing complimentary transportation to the new space. Details to follow.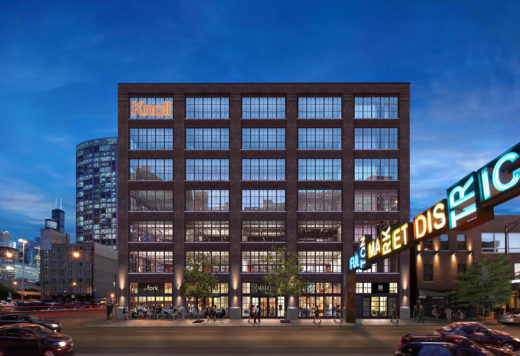 Since our founding 80 years ago, Knoll has contributed to the vitality of reimagined neighborhoods that attract both the design community and creative individuals alike. We are excited that Knoll design will be at the epicenter of Fulton Market and are especially pleased to be an anchor of the district, contributing to neighborhood growth.