Welcome to Knoll at Fulton Market. Our revitalized Fulton Market experience demonstrates the power of today's workplace ecosystem.


811 W. Fulton Market
Chicago
Knoll at Fulton Market 2021
an inviting place to come together
a space that embraces flexibility
New perspectives on the modern workplace
a      perspective
         on
     the future
of work
We are entering a new era of work: workplace as an ecosystem. The next phase of workplaces will need to link employees across a multilayered system of different locations, with experiences that offer belonging, equity, connection, functionality, flexibility and wellbeing. This is an unprecedented opportunity for organizations to reimagine and reinvent the way they work and do business.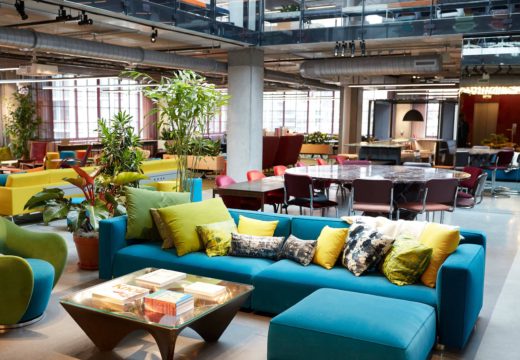 Ideas that Inspired the Space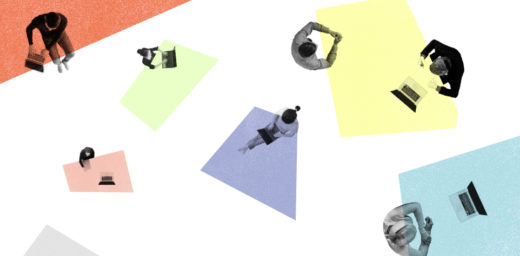 Thriving neighborhoods for hybrid work
As the hybrid workplace emerges, accessible, ever-evolving spaces are needed more than ever to support both teams and individuals. Distinct neighborhoods and product solutions can support four key modes of collaboration: Build, Ideate, Gather and Study.
Collaborative and informative technologies
In the user experience of collaborative work, the digital is almost everywhere, with technology that provides seamless connectivity, convenient power access and simple and reliable ways to gather information. From Telescope to Interpole, our technology partners and products work together to create settings and solutions that connect people across locations, facilitate work and inform decision-making and planning.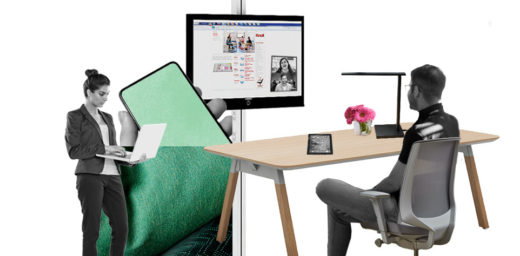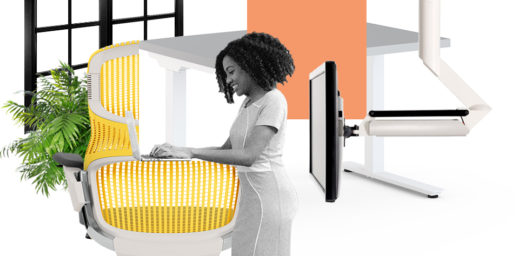 Holistic ergonomic support
Investing in furniture is investing in people. Our commitment to thoughtful design and quantitative research, coupled with leading-edge technology, has resulted in a comprehensive portfolio of ergonomic products. Our task seating, height-adjustable desks and Sapper Monitor Arms support a diverse population of workers, while offering personalized control and boosting physical well-being.
Hospitality and restorative experiences
Inviting spaces energize and restore us. Our new Iquo Café Collection designed by Ini Archibong along with our scope of KnollStudio products create spaces with a hospitable ambience where people can be social and enjoy the benefits of being together. At the same time, thoughtful products like Haven by Fully, Silent Silo and Inlet Screens offer individuals a place to take a break and rejuvenate.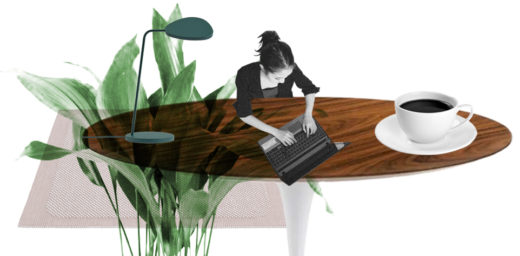 Natural materiality
Warm woods, soft felt and vibrant textiles bring the outside in, infusing the collaborative workplace with a sense of warmth and balance. Our extensive wood finish options across Reff Profiles, Islands Collection by Knoll, DatesWeiser, Rockwell Unscripted, KnollStudio and Muuto, along with coverings from KnollTextiles and Spinneybeck | FilzFelt come together to establish a new material standard.
an   
   inviting place
               to
      come together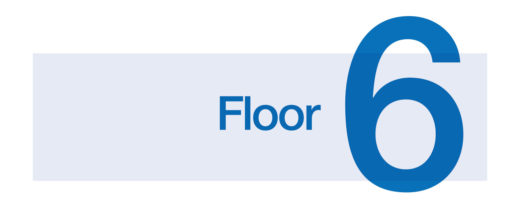 Enter the space on Floor 6. Be welcomed into a thriving workplace that promotes a sense of belonging, inclusion and camaraderie.
A warm welcome
An elegant entryway, with a skylight open to the next floor, receives guests with Knoll classics and rich materials and textures to evoke a sense of welcome and warmth.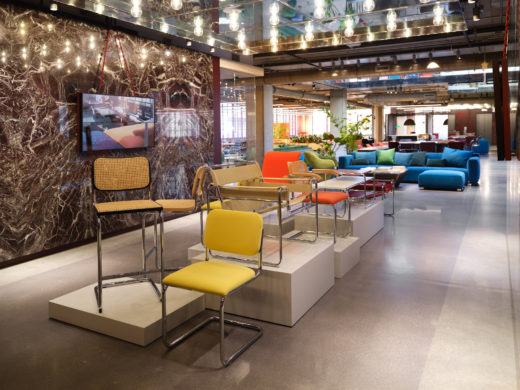 Present in style
Located in close proximity to the entry, a client-facing meeting space outfitted with a DatesWeiser Vector table showcases exceptional detail and workmanship.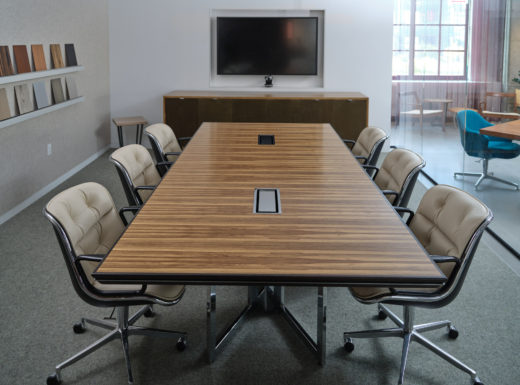 Bring a touch of home
A vibrant café with a living room-style meeting space draws workers in and enable them to gather together for everything from a casual meeting to a client presentation to a cocktail party.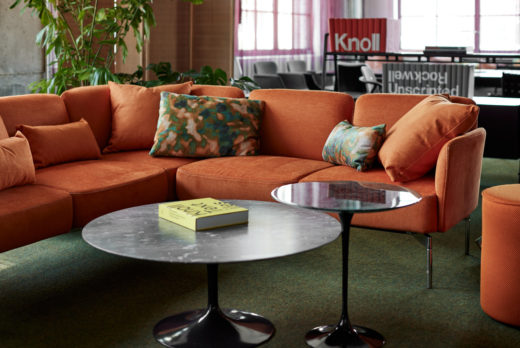 Get together
Unite for training, talks and celebrations in a large-scale gathering space. Rockwell Unscripted steps offer a place to perch for a fresh perspective.
Feel connected and focused
Team breakout rooms offer proximity to the work bar and adjacent workstations, feature an acoustical ceiling solution that dampers noise while allowing visibility to keep occupants connected to the overall space.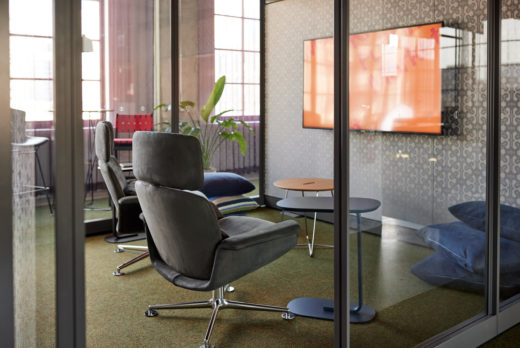 ↑ KN02, Muuto Relate Side Table
Spaces for every team
Collaborative work settings of various sizes and enclosures are planned to support teams and individuals as work projects advance through their various stages— building, ideating, gathering and studying. Individual workspaces, workstations and offices with adjacent storage and easy access to breakout spaces and the hospitality and café zone, cater to all worker types—resident, hybrid and remote.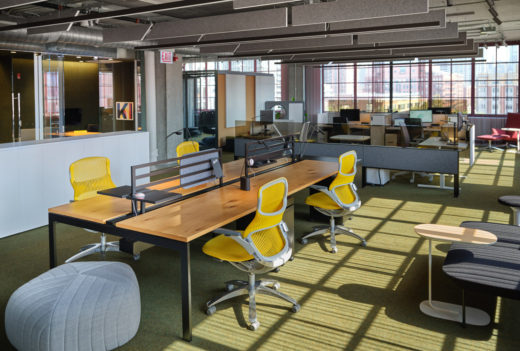 Technology to support hybrid work
Featured workplace technologies enhance user experience while informing organizational decision-making.
a space that 
                embraces flexibility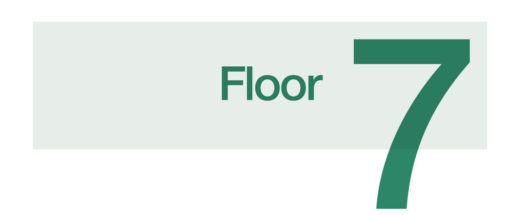 Take the stairs to Floor 7, an adaptable space filled with products and ideas that support the fluid nature of hybrid work.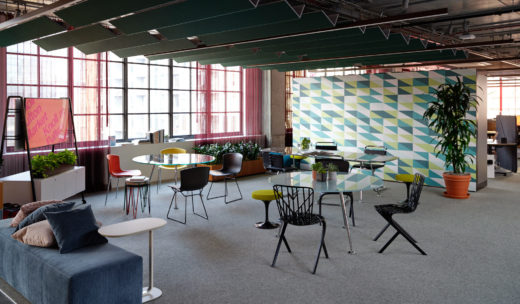 Take a seat
At Knoll, a work chair is an interactive object that responds to a person's movements throughout the workday and an adaptable tool that anticipates the challenges of tomorrow's workplace.
A new type of private office
New shapes and footprints address individual needs, but also support mentoring, one-on-one interaction and teamwork.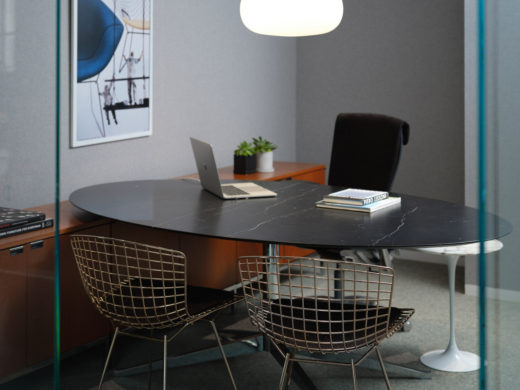 Power and flexibility
Antenna Power Beam, storage and accessories create compact, efficient workspaces that provide maximum performance and flexibility for today's shifting workplace needs.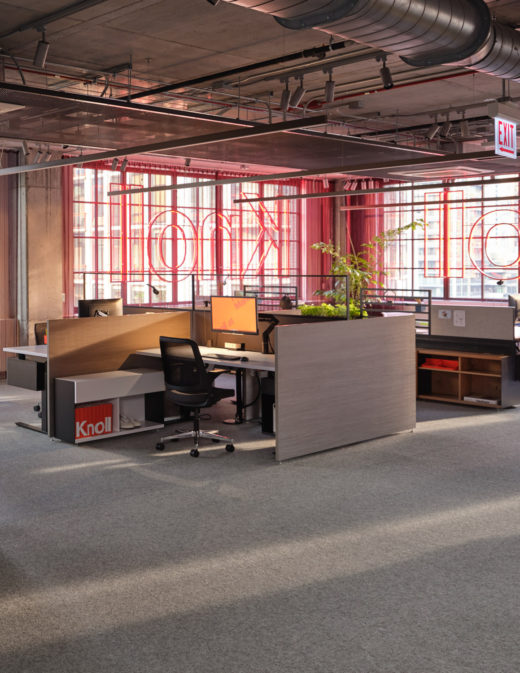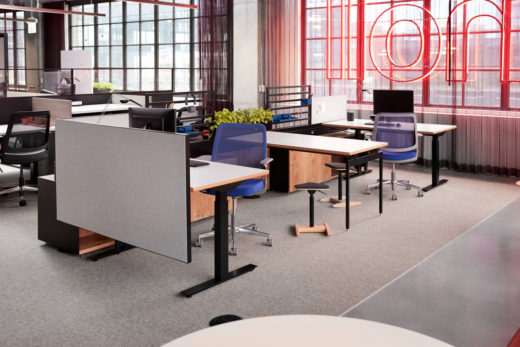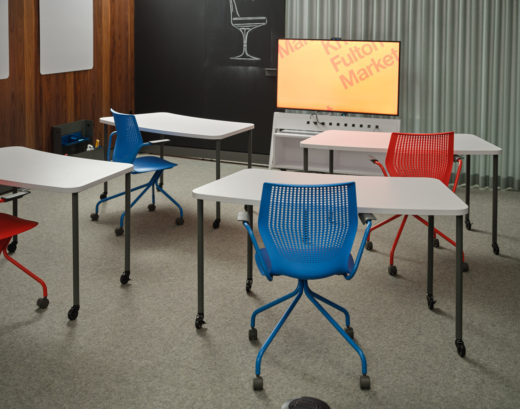 ↑ Antenna Simple Table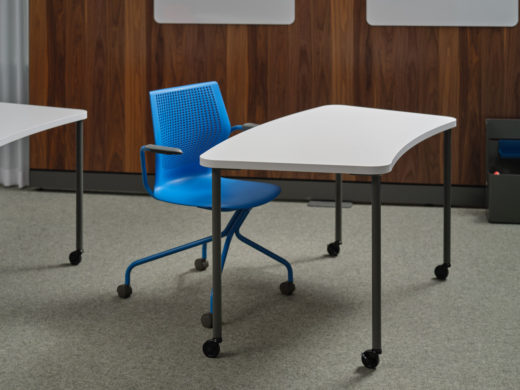 Design the space for your needs
An active team zone includes furniture— reconfigurable lounge, moveable tables, whiteboards, etc.—that allows teams to quickly adapt the space as needed throughout the day, making it ideal for brainstorming, co-creation and ideation workshops.
Furniture as architecture
A series of spaces—workstations, casual lounge and meeting—are defined and connected by Rockwell Creative Wall enclosures. Adjacent tall tables offer another place to gather.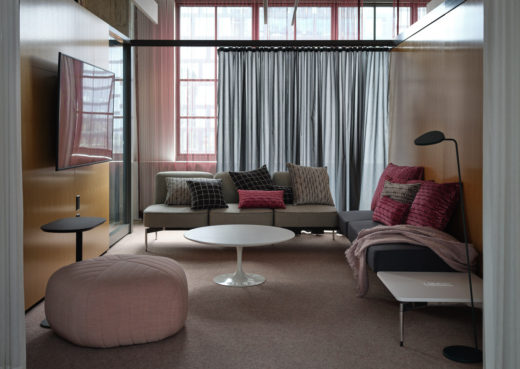 KnollTextiles
New introductions explore vibrant colors and experiment with a mixture of organic and structural shapes, with a selection of fabrics paying tribute to older techniques like weaving, quilting and embroidering.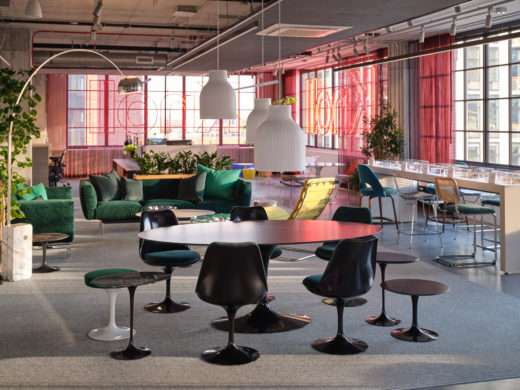 Work from home space
Planning for employees working from home is a pivotal part of the workplace ecosystem. An ergonomic work from home setup will support and inspire employees to do their best work.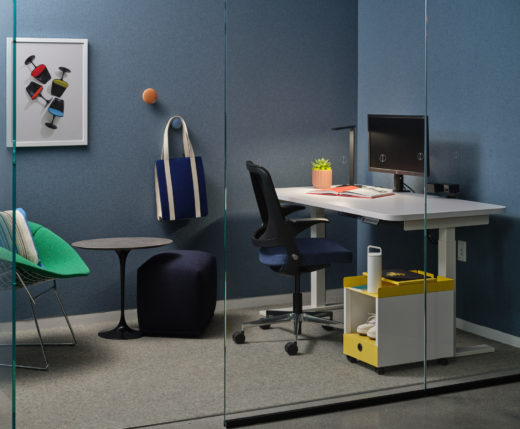 new perspectives
on the modern
   workplace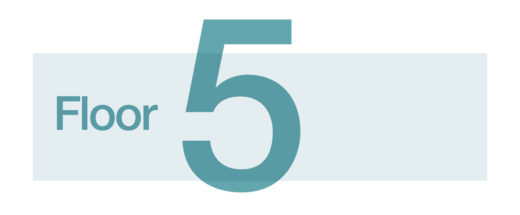 Welcome to Muuto. Drawing on our Scandinavian roots, Muuto handpicks today's leading designers to create contemporary furniture, lighting and accessories characterized by an enduring aesthetic, craftsmanship and an honest expression.
Welcome 
Create social settings and areas that invite people in with designs that have a welcoming nature while bringing personality and feelings of home into the workplace.
Grab a chair 
Explore our versatile chair collection designed to meet any hospitality, office and working from home needs.
Find your focus
Create private spheres within open spaces for focused work and withdrawal.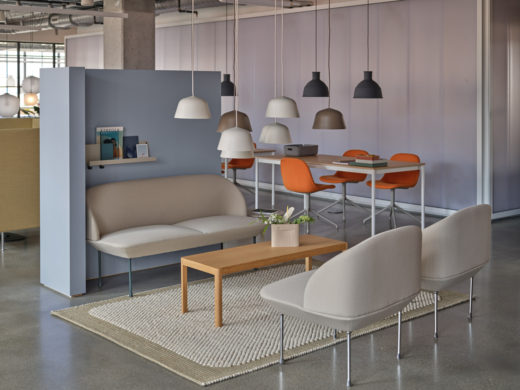 Encourage spontenaity 
Design dynamic and flexible work touchpoints for the spontaneous meetings that occur throughout the day with the Base High table.
Welcoming dining spaces
Dining spaces can be more than purely functional places to grab a meal; they should be spaces that encourage us to gather and socialize. Explore our modern hospitality areas, designed with an inviting atmosphere and a range of durable designs ideal for high-traffic public spaces.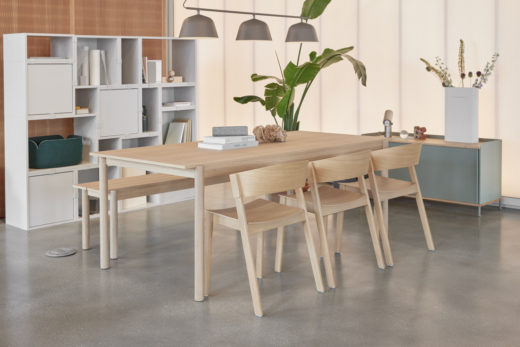 Flexible training and meeting
Nimble tables and seating that reconfigure easily, paired with the proper technology solutions for group work, address the myriad of ways people collaborate today.
Work from home
A compact, yet inviting home office setting that echoes its Scandinavian design heritage.