Richmond's 1717 Innovation Center is a Beacon for New Startups
---
Young companies create the majority of all new jobs in the U.S. and strengthen the overall business ecosystem by injecting healthy competition and innovation.
At the local level, Silicon Valley has set the standard for startup-fueled economic growth. But the geography of innovation is shifting as cities across the country, from traditional magnets like New York to up-and-coming tech hubs like Huntsville, Alabama, experiment with strategies to attract entrepreneurs.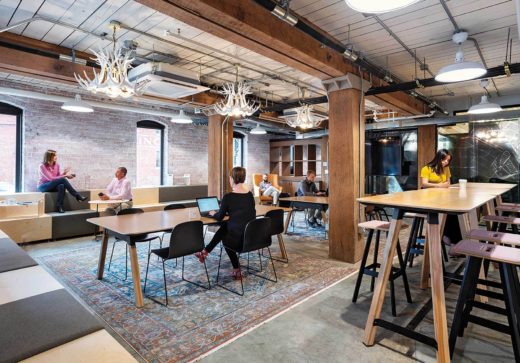 In Richmond, Virginia, a local organization called Startup Virginia is leading the charge. "The goal is to make Richmond the entrepreneurial destination of the central East Coast," said Program Manager Sonia O'Malley.
Startup Virginia has an intimate knowledge of the challenges facing area entrepreneurs. When they launched their nonprofit in 2016, founders Will Loving and Brad Cummings found themselves frequently hearing from small business owners who were frustrated about the lack of physical spaces in which to work as well as share ideas. Recognizing an opportunity, Loving and Cummings set about turning an old tobacco warehouse in downtown Richmond into a thriving coworking space.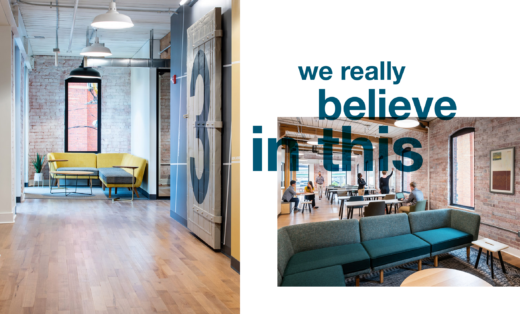 When Capital One, the hometown financial giant (now based in McClean, VA) heard about their plans, it offered to purchase the building and finance its renovation. "They told us, 'We really believe in this; we were looking for a way to give back to the community,'" O'Malley says.
Today, Capital One occupies part of one of the building's six floors, while Startup Virginia and its 81 member companies use the rest of the space.
The 42,000-square-foot facility features a variety of work areas ranging from open coworking tables to dedicated offices. Its common spaces—meeting rooms, plus a shared conference room as well as a rooftop deck and event space—often host networking events, social gatherings and other activities that help foster community.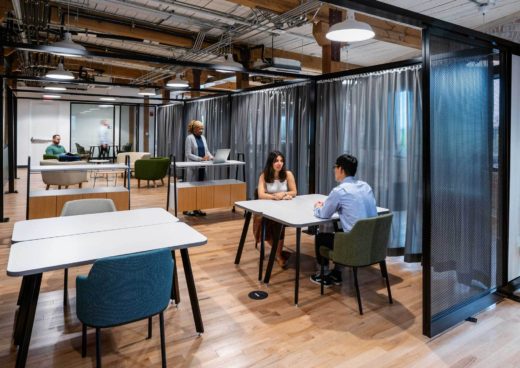 1717 also offers onsite programming including guest lectures, training sessions and business coaching that give founders the tools they need to succeed. "[Entrepreneurs] can learn to build a business faster and better than they ever would if they were working out of their basement," O'Malley says.
Success stories to date include Roundtrip, a digital marketplace focused on healthcare transportation that recently raised $5.1 million in funding, and Outdoor Access, an Airbnbstyle platform that connects landowners with outdoor recreation enthusiasts.
The interiors of 1717 Innovation Center, designed through a partnership between Capital One, Knoll and SMBW, a local architectural studio, offer a modern interpretation of Southern charm, blending historic architectural elements and local artwork with crisp lines and a contemporary color palette. The space offers ample opportunities for impromptu group sessions as well as headsdown focused work, fostering creativity and supporting employee engagement.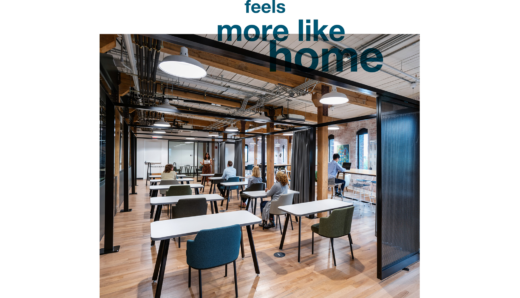 Throughout the space, Startup Virginia utilizes Rockwell Unscripted tables, seating, lounge, borders, storage and accessories. Tone™ height-adjustable tables also enhance wellness by allowing workers to stand for part of the day, while Scribe® mobile markerboards amplify opportunities for collaboration and brainstorming.
According to O'Malley, this variety of work environments is a major asset to entrepreneurs. "It's fun to see people pick their favorite spots—like all the couches that we have—whether it's for taking a midday nap, or just to get a change of scenery. [It feels] like you're not working in an office," she said. "People really love those corners where it feels more like home."
---
This story is from our debut issue of Knoll Works—a publication showcasing how our constellation of brands and planning capabilities create inspiring workspaces.