Our New Fulton Market Space Harmonizes Work and Life

Some 70 years after Florence Knoll—a pioneer of Modern workplace design—designed her first New York Knoll Showroom at 601 Madison Avenue, the company she led and nurtured continues to buck conventional wisdom.
Knoll's new Chicago space, which opened in June 2019 with the launch of Knoll Design Days, represents a new chapter for the brand. By leaving behind its longtime presence in the Merchandise Mart and relocating to Fulton Market—a millennial-friendly neighborhood that epitomizes the mix of living and working that drives workplace design today—Knoll is once again forging its own path.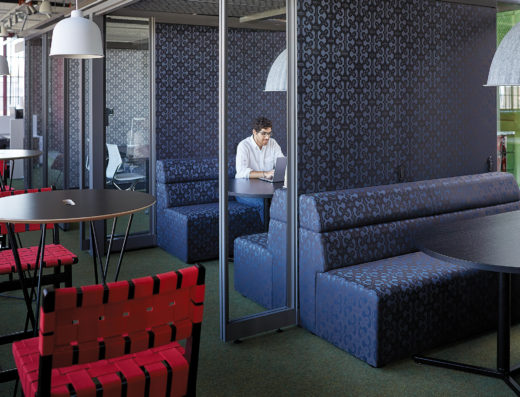 Considering the brand's heritage, the move makes perfect sense. "In its history, Knoll has always charted new courses. The time was right for us to leave the Merchandise Mart," explains Alana Stevens, Knoll Senior Vice President, Chief Marketing Officer. "As a new, developing area of Chicago, the Fulton Market neighborhood not only has the vibrancy we are looking for, but also enough space for us to showcase all of our brands and provide an experience that is fitting for Knoll today."
The brand's Fulton Market presence is a natural progression of Florence Knoll's founding design principles. In her commitment to promoting the values of "total design" she rejected the conventional schism between architecture and décor, blurring the lines between workplaces and homes. She created environments from the inside out, deploying Knoll furniture as sculptural objects that could both shape and punctuate space. Knoll Fulton Market visitors will see this come alive, from environments that foster collaboration and focused work to vignettes that showcase a breadth of materiality and vivid colors.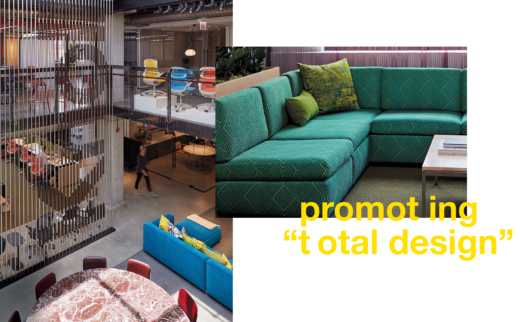 Designed by architecture and design firm Gensler, the new space puts Knoll at the center of a burgeoning new area of Chicago. After galleries and restaurants began cropping up in the area, "retail moved in, then the coffee shops, then the tech companies," says Gensler Principal Todd Heiser. "It is a true 24/7 neighborhood. And Knoll is such a lifestyle company; it's a company that's relevant in so many settings. One of the key drivers [of this project] was to take Knoll and move it to where many of the company's clients are already working—to move it to a vibrant part of the city that is about design, about the convergence of life and work."
Benjamin Pardo, Knoll Design Director, adds, "We designed the space to create a welcoming environment for anyone in Chicago who wants to stop by and be surrounded by something beautiful."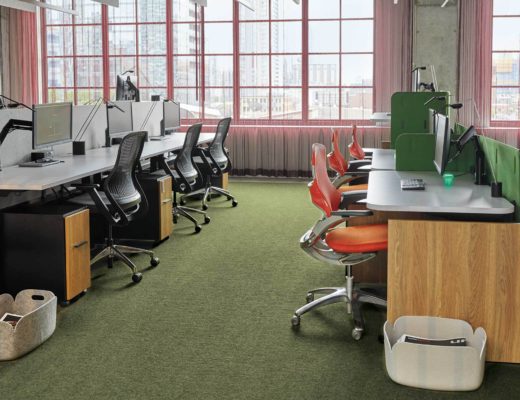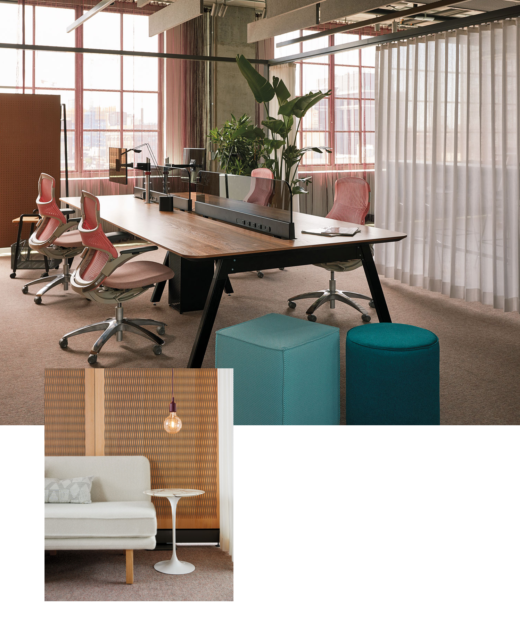 Inside, Knoll's constellation of workplace brands—Knoll Office, KnollStudio®, KnollExtra®, KnollTextiles®, DatesWeiser, Spinneybeck | FilzFelt and Muuto—all have their own space in which to shine. Throughout the space, brands are paired together in a series of eclectic vignettes, from the polished bronze tables by Antenna Design with velvet upholstered Saarinen Executive chairs to a Muuto lounge area framed by Rockwell Unscripted Creative Wall, showing the many ways a workspace can express what it means to be Modern today.
"All of the brands come together in one place, yet each brand has enough room, and each has an opportunity to inspire people to think about what is right for them," Stevens says. "It's a mix of raw and refined, luxe and accessible. And it's something that only Knoll can do."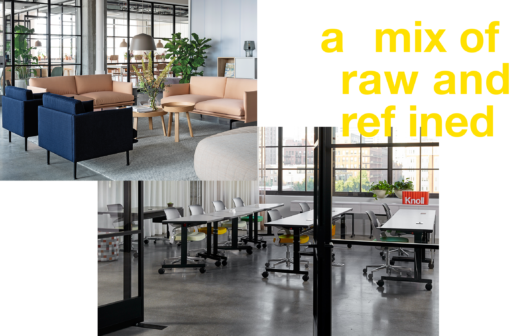 The new Chicago space is "a bigger and bolder statement around hospitality than Knoll has ever put forth before," Stevens continues. Yet Florence Knoll's vision of "total design" remains alive. "In recent years, we've seen elements of the home become more and more present in the workplace," adds Pardo. "But really, this is just what Florence Knoll envisioned in the 1950s and '60s by creating environments that blurred the boundaries between living and working. Her perspective is as relevant as ever and was integral to our design at Fulton Market."
Knoll at Fulton Market is a transformative space where clients can explore workplace planning strategies and products that unite legacy and innovation to create inspired modern interiors.
Drop by, or to arrange a visit, contact Linda Kasper at [email protected].
---
This story is from our debut issue of Knoll Works—a publication showcasing how our constellation of brands and planning capabilities create inspiring workspaces.