A Farnsworth House Exhibition Celebrates Florence Knoll and her Bauhaus Mentors
The Bauhaus school operated for just 14 years, but its influence continues to be felt in our cities, buildings and living—and working—spaces. The Bauhaus also encouraged students to think about design not as the production of isolated objects, but rather the creation of holistic environments.
A 2019 exhibition at the Farnsworth House Barnsworth Gallery in Plano, Illinois underscored the strong ties between Florence Knoll, the Bauhaus and the Modern Movement. On view during the legendary institution's centennial, Masters of Modern: Bauhaus Masters and Shu illustrated Florence Knoll's contributions to the rise of American Modernism and traced the evolution of modern workplace interiors from the avant-garde German design school to workplaces throughout the United States.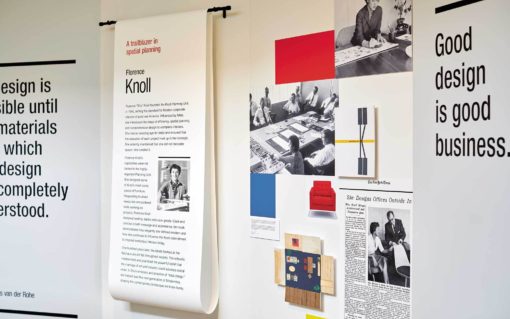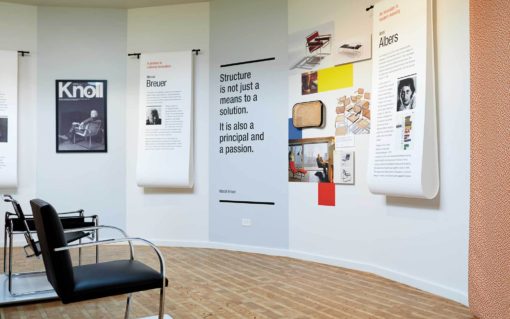 The exhibit placed a special focus on the relationships between Florence "Shu" Knoll and legendary Bauhaus figures, including Anni Albers, Marcel Breuer, Walter Gropius and Ludwig Mies van der Rohe. Mies served as a mentor for the young Florence Knoll, who studied under him at the Armour Institute (now the Illinois Institute of Technology). Her experience fostered a lifelong reverence for the Bauhaus principle of "total design." Walter Gropius, another mentor, challenged both faculty and students to create a "total architecture" that could foster a more beautiful, harmonious and democratic world.
The Farnsworth installation included designs that Florence Knoll routinely incorporated into her workplace and residential interiors, such as Breuer's Wassily and Cesca chairs, Mies' Barcelona Collection as well as her own, Bauhaus-inspired Parallel Bar Seating Series.
"She had an idea of what total design could be, something flexible, that was about creating adaptable spaces for living," says Zoe Ryan, the John H. Bryan Chair and Curator of Architecture and Design at the Art Institute of Chicago, when asked about Florence Knoll's legacy. "Although inspired by ideas that had been germinating at the Bauhaus, her approach was less dogmatic than that of other modernists working at this time."

Learn more about the Farnsworth House at farnsworthhouse.org.
---
This story is from our debut issue of Knoll Works—a publication showcasing how our constellation of brands and planning capabilities create inspiring workspaces.