Brown School of Engineering Fosters an Interdisciplinary Approach to Research
At Brown University in Rhode Island, research teams have been studying environmental degradation for years as part of a Superfund research program. Now, with the recent opening of the Engineering Research Center, they're hoping to push their work even further.
Formerly, teams working on four different biomedical and engineering projects were housed in separate, isolated spaces with few opportunities for cooperative work and conversation. The new facility has changed the way the research teams work together. Today "all the members of [each] group sit in a joint collaboration space where they can share ideas, talk, train and mentor each other," says Jennifer Casasanto, the engineering school's Associate Dean for Programs and Planning. With no physical walls dividing them, "their labs can shareequipment and collaborate on experiments really easily."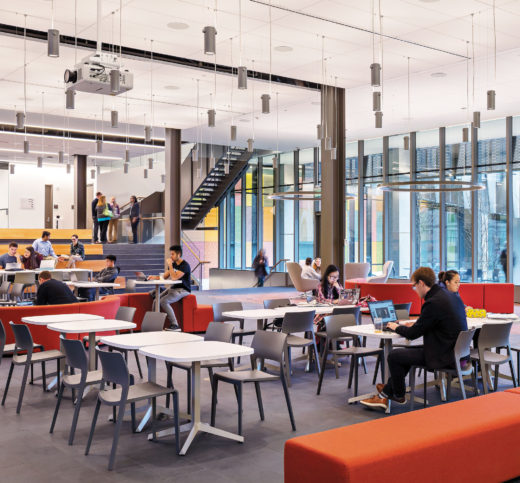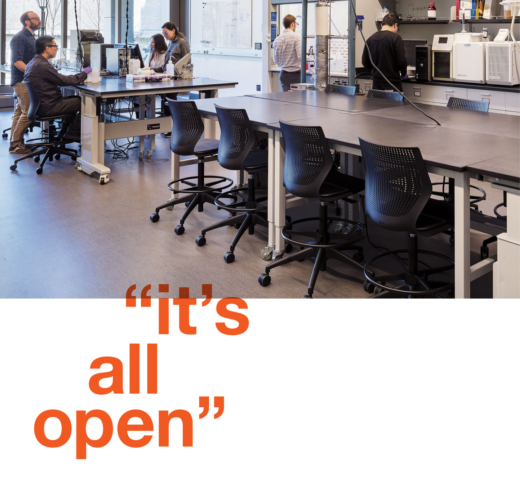 This is precisely the result Casasanto and her colleagues were looking for. To help STEM researchers tackle pressing issues, encouraging collaboration had to be a priority in the new building's design. "Complex societal challenges aren't going to be solved by one small unit working from one disciplinary approach," Casasanto says.
In the finished facility, students and faculty work in airy, glass-walled labs and offices that offer natural light and views while providing acoustic privacy. The design "doesn't feel claustrophobic," said Professor Iris Bahar, who led an ambitious multi-year planning initiative for the new building, working directly with students, faculty and staff to understand—and meet—everyone's needs. "It's all open."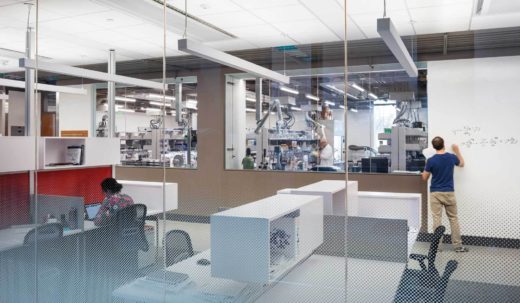 On the ground floor of the center, a large multipurpose space known as the Commons sits at one end of Manning Walk, a pedestrian pathway that welcomes visitors from various disciplines from the Brown community at large. According to architect Mark Davis, who led the building's design for Philadelphia-based firm KieranTimberlake, the space can accommodate everything from impromptu meetings to large lectures.
"The design team began thinking about furnishings early in the project," Davis said. In shared labs and offices, Knoll's Antenna Workspaces and Interpole provide research teams maximum flexibility while offering a clean, minimal look that complements the steel-and-glass architecture. "We were trying to anticipate a space that could be used in lots of different ways by lots of different people without having to call in a contractor and put up partitions," he said.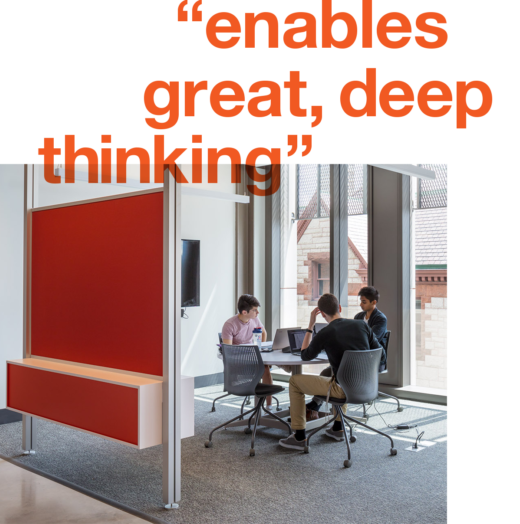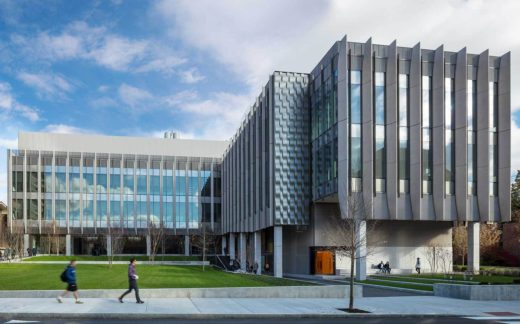 In the Commons, easily movable k. lounge seating was paired with Dividends Horizons tables, allowing the space to be cleared for events.
For researchers working with lab equipment, the design team specified MultiGeneration High Task Chairs, making it easy to swivel from center table to microscope.
Together, these design features create a research facility that, according to Bahar, reflects the hopes and desires of the many people who helped create it. "The physical environment we planned, with input from our community, truly enables collaboration—great, deep thinking—in a pleasant, productive environment."
---
This story is from our debut issue of Knoll Works—a publication showcasing how our constellation of brands and planning capabilities create inspiring workspaces.